The Forum is built around not only providing students with knowledge, tools, and skills to develop their own change-making projects, but also inspiration and guidance from today's leading thinkers and creators. Each semester, a number of plenary sessions are dedicated to bringing together the entire Forum community for personal discussions with distinguished guests, ranging from global humanitarians and human rights attorneys, to tech innovators, climate scientists, activist-artists, renowned storytellers, major philanthropists, actors, and business experts.
Forum presenters work on an expanded master class model–not a formal academic lecture behind a podium, but an engaging, even interactive presentation that is partly about ideas and practices, but also a lot about experiences and personal history: how did our guests get to where they are? What shaped their commitments? And–most importantly–what can students and young people themselves do to help make change? Utilizing pre-readings and in-class sampling polls, visitors share their ideas and take feedback on the challenges of the current generation, the importance of interdisciplinary learning, and the responsibilities of a global community.
---
♦ Navesink Lecturer     
★ Rutgers Faculty    
⊰ Rutgers Alumnus/Alumna
---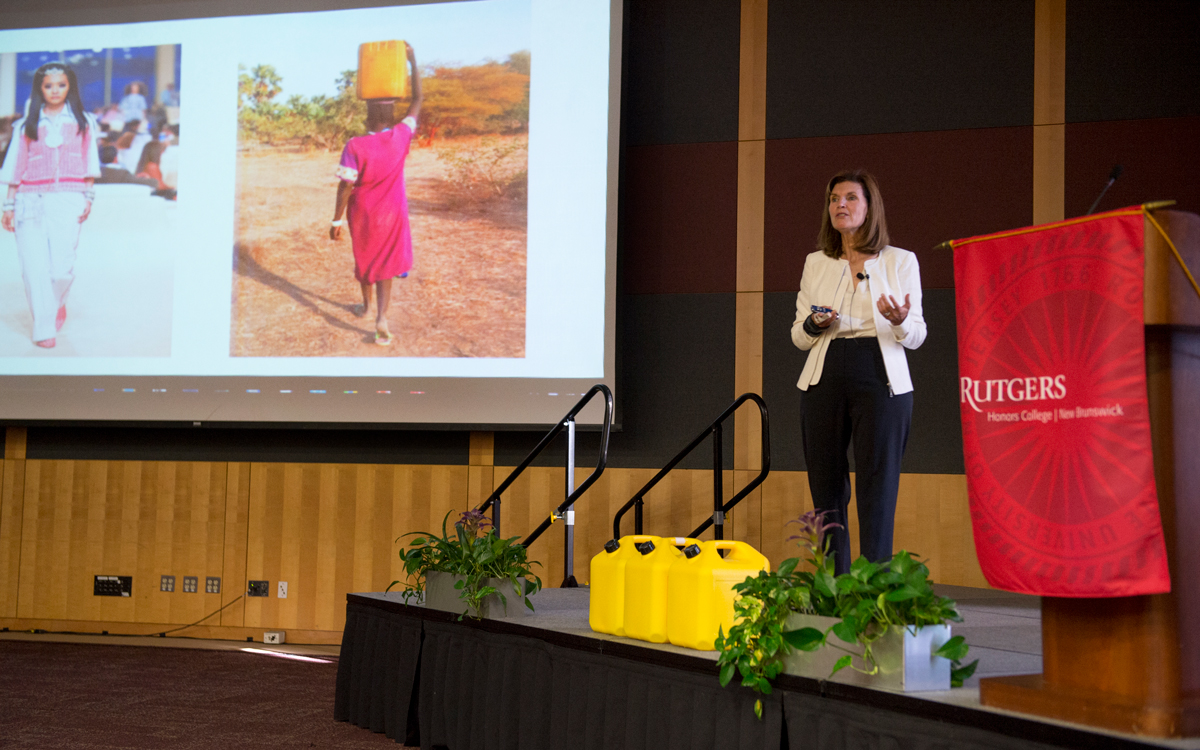 Dr. Francis Barchi ★
Expert on ethical issues in global health, women's and girl's health in Southern Africa, and capacity-building tied to international research. Is an associate professor in the Edward J. Bloustein School of public Policy and core member of the Institute for Health, Health Care Policy, and Aging Research at Rutgers University.
Zack Brisson
Co-founder and chief strategist for REBOOT, seminal social impact organization working with global actors and agents in government, civil society, and philanthropy, particularly in civic engagement, public financial management, and media development.
Kaila Boulware-Sykes 
Kaila and her husband Raymond (both Rutgers graduates) founded Hidden Gems Literary Emporium, a non-profit community bookstore in New Brunswick. Their goal is to spread love through literacy through a yearly #1000FreeBookTour across the country, literacy programs for ages 1 to 100, Free Book Festivals for schools, and supporting independent authors across the world. Kaila will be speaking to students about how to translate goals into action, and donating 240 copies of Invisible Influence by Jonah Berger to Forum students.
David Broza
Renowned Israeli singer and songwriter, noted for dozens of folk, rock, and pop albums and for his commitments as a peace activist through his music, performance, and speaking. Recognized as a goodwill ambassador for UNICEF and through documentary films dedicated to his work.
Julia Buntaine
Internationally exhibited artist-innovator, trained in neuroscience and studio art, founder of SciArt magazine, and inaugural director of special STEM+Art experiential learning initiative for Douglass women at the Honors College.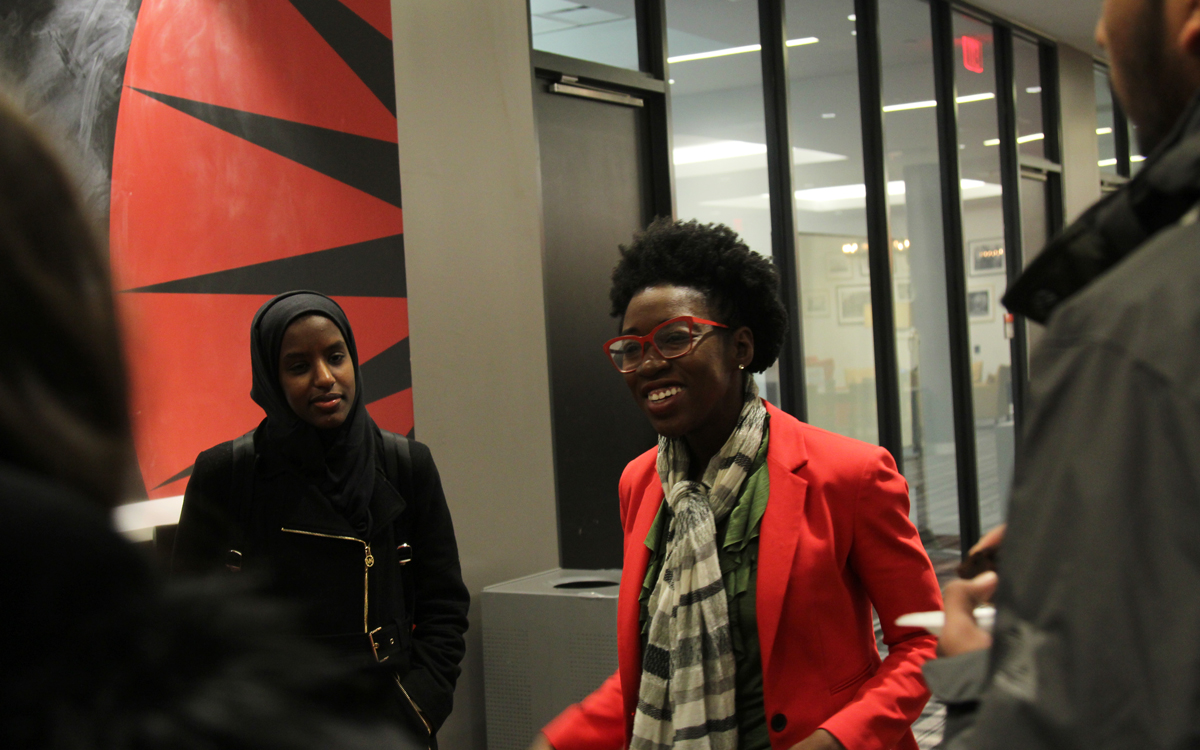 Joy Buolamwini ♦
Computer scientist and digital activist, entrepreneur and researcher at MIT Media Lab; winner of the Hidden Figures Award. Founder of the Algorithmic Justice League, and expert on the social implications of Artificial Intelligence.
Dr. Abena Busia ★
Writer, poet, scholar, professor of literature, Ghana's ambassador to Brazil. Former chair of Women's and Gender Studies at Rutgers, and noted for her writing and editing on Black feminism, teaching the history of the slave trade, and women writers in Africa.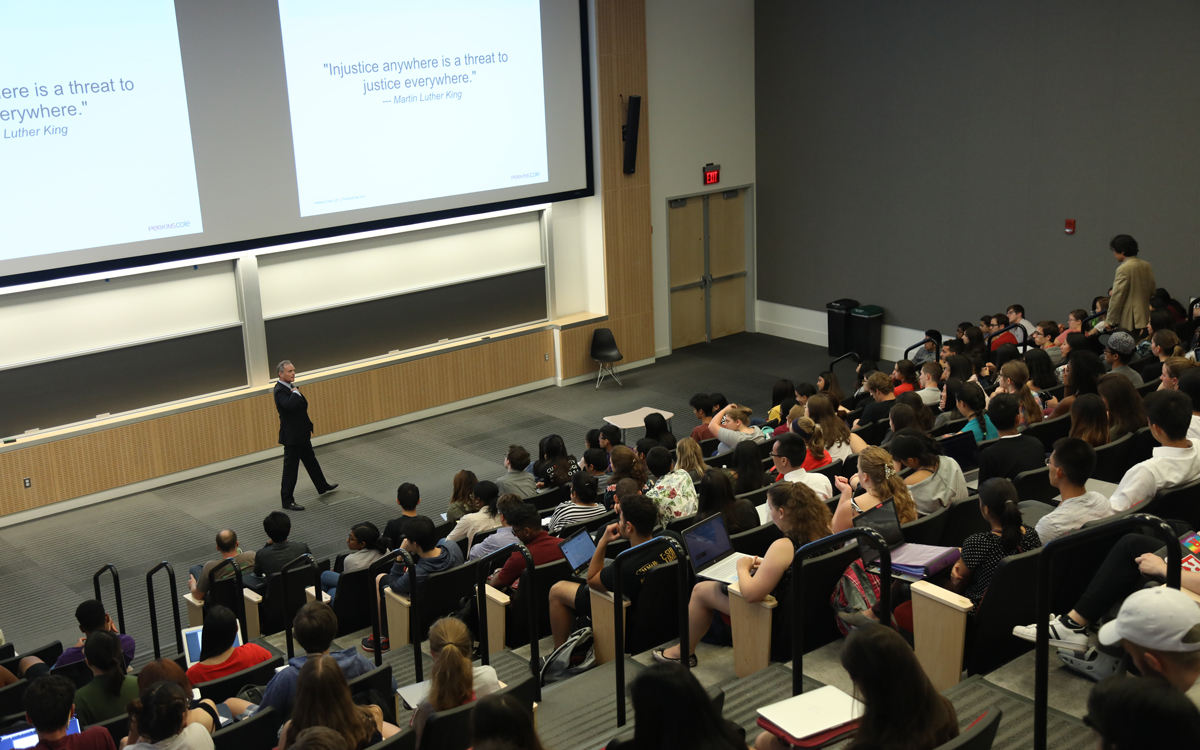 Howard R. Cabot, J.D. ⊰
Internationally recognized trial lawyer and human rights advocate, and professor dedicated to teaching on moral leadership. Noted for defending Guantanamo Bay prisoner Noor Uthman Muhammed against terrorism charges in landmark case.
Gary Cohen ⊰
Executive vice president, global health and president, board foundation, Becton Dickinson & Co. Recognized as worldwide advocate for Corporate Social Responsibility, and leader of major collaborations between international agencies, governments, and non-governmental organizations.
Christopher Emdin 
Dr. Christopher Emdin is the creator of the #HipHopEd social media movement and Science Genius BATTLES. He is the author of numerous award-winning books, including Urban Science Education for the Hip-Hop Generation and the New York Times bestseller, For White Folks Who Teach In the Hood and the Rest of Y'all Too. His latest books are Ratchetdemic: Reimagining Academic Success and STEM, STEAM, MAKE Dream. In his talk, Dr. Emdin urged Honors College students to never compromise their message or their authenticity, but rather to find their "ratchet" selves—who they are when they are fully themselves doing the thing that speaks to them.
Dr. Paul Falkowski ★
Biological oceanographer, distinguished scientist, and author of Life's Engines. Expert on the origins of life, geochemistry, planetary evolution, and transformations of the solar system. Holds multiple appointments in Business and Natural Resources, Earth and Planetary Sciences, and Marine and Coastal Sciences.
Dr. Peter Guarnaccia ★
Professor of human ecology, medical anthropologist, expert on public health, social identities, global immigration patterns and communities. Noted for research and fieldwork on cultural analyses of psychiatric epidemiology, mental illness, and family care-giving.
Batool Hassan ⊰
Director of Leadership, Acumen Fund, runs global fellows programs, partnerships, and trainings for international leaders to address poverty and social injustice through microfunding, entrepreneurship, and business development.
Norrinda Hayat 
Norrinda Hayat is a current Fordham Law Professor and former associate professor of law at Rutgers. She has taught courses in Property Law, Critical Race Theory, and Landlord Tenant Law. She has also served as director of the Civil Justice Clinic and as advisor to the African and Black Law Students Association and the Newark Housing Rights Coalition. Prior to coming to academia, she worked as a trial attorney in the U.S. Department of Justice, Civil Rights Division, Housing and Civil Enforcement Section. Professor Hayat spoke to students about the continued impacts of structural inequalities and historic redlining within the context of the eviction crisis.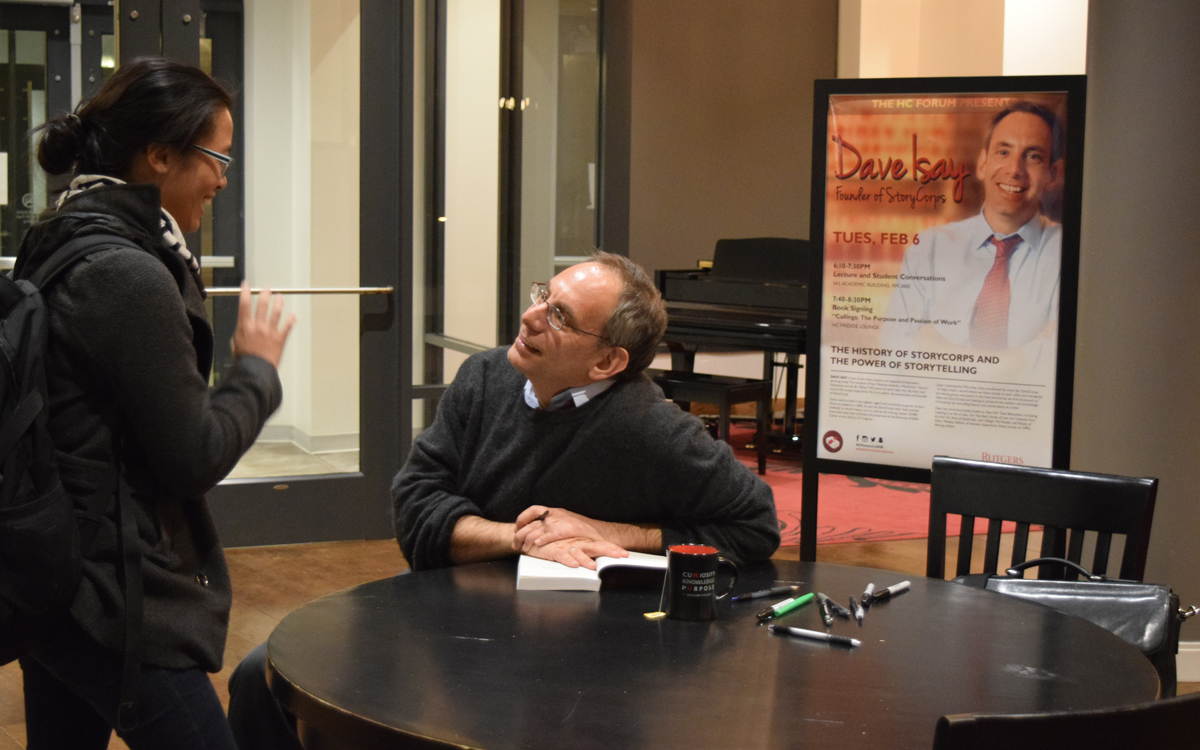 Dave Isay
Founder of StoryCorps, the award-winning global oral history project, and NPR correspondent. Author, speaker, radio producer, recognized with six Peabody Awards and a MacArthur "Genius" Fellowship.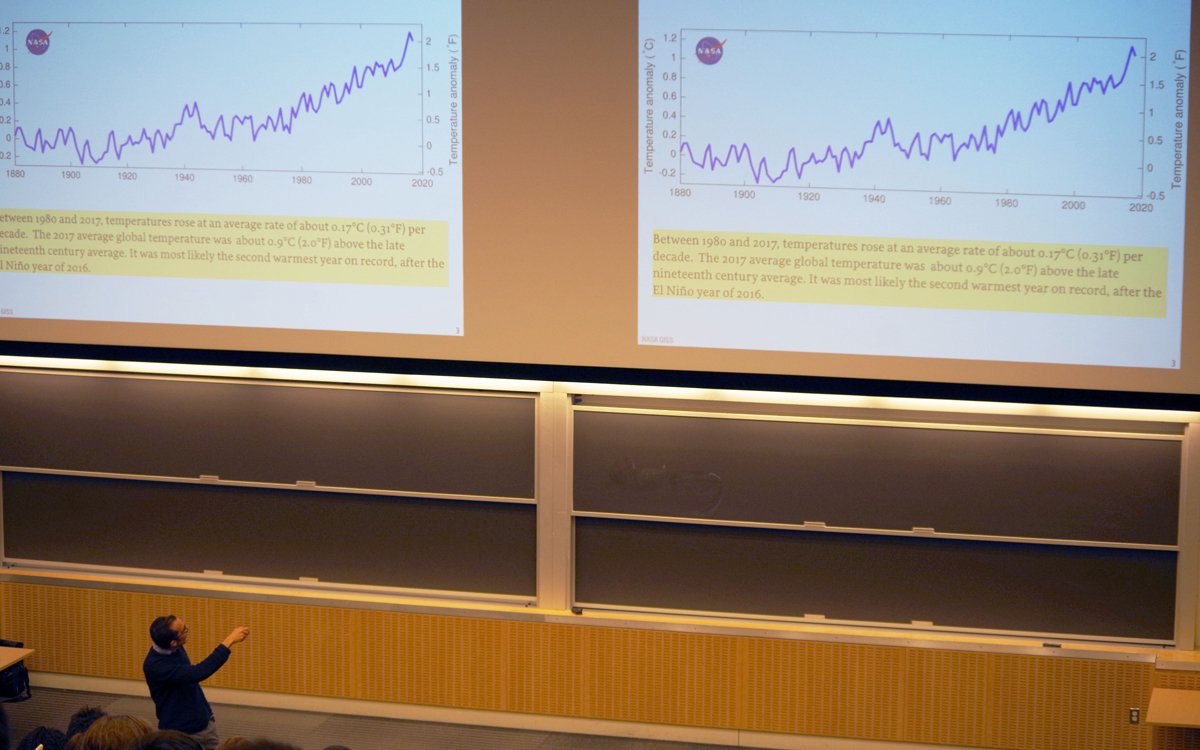 Dr. Robert E. Kopp ★
World-renowned geobiologist, public scientist, author, and climate policy scholar, and Director of the Institute for Earth, Ocean, and Atmospheric Sciences at Rutgers. Director of the university's Coastal Climate Risk and Resilience initiative, and co-director of the Climate Impact Lab.
Amara Lakhous
Algerian-Italian journalist, anthropologist, and author of the prize-winning novel Clash of Civilizations Over an Elevator in Piazza Vittorio. Noted for works on immigration, identity, culture, politics in Europe and the challenges of global citizenship.
Tania Leon
Cuban-born composer and conductor. Recognized for her work in opera, dance theater, and as an artistic director and arts advisor for multiple organizations. Noted for her work related to education, politics, art, culture and Latino society.
Ssanyu Lukoma
Ssanyu Lukoma is a teenage entrepreneur, author, and public speaker. In 2018, at 13 years old, she founded Brown Kids Read, a non-profit organization dedicated to motivating all children, but especially children of color, to read more diverse literature. Most recently, Ssanyu wrote a children's picture book entitled Suubi's Sunny Smile, which includes prominent heritage and dental hygiene themes and has a vital anti-bullying message. Ssanyu will be speaking to students about how to use their unique life experience to inform their work in service to others.
Nathalie Miebach 
Nathalie Miebach is an artist who explores the intersection of art and science by translating scientific data related to meteorology, ecology and oceanography into woven sculptures and musical scores/ performances. Her work has been shown internationally, and she was an artist in Residence at Rutgers. Nathalie spoke to students about how art can be used to interpret scientific data, and how that can help us understand our world in a new way.
Gary Minkoff ★
Former mayor of Highland Park, N.J., leader of NJ Higher Education Partnership, financial advisor with Smith-Barney and Merrill Lynch, President of Above & Beyond Marketing, co-founder of BioDev, professor of entrepreneurship.
Amy Michael and Claudio Mir ★
Principals at The Collaborative–community researchers, teachers, and activists supporting community-based partnerships and public scholarship, with outreach and programming between Rutgers and all of New Jersey.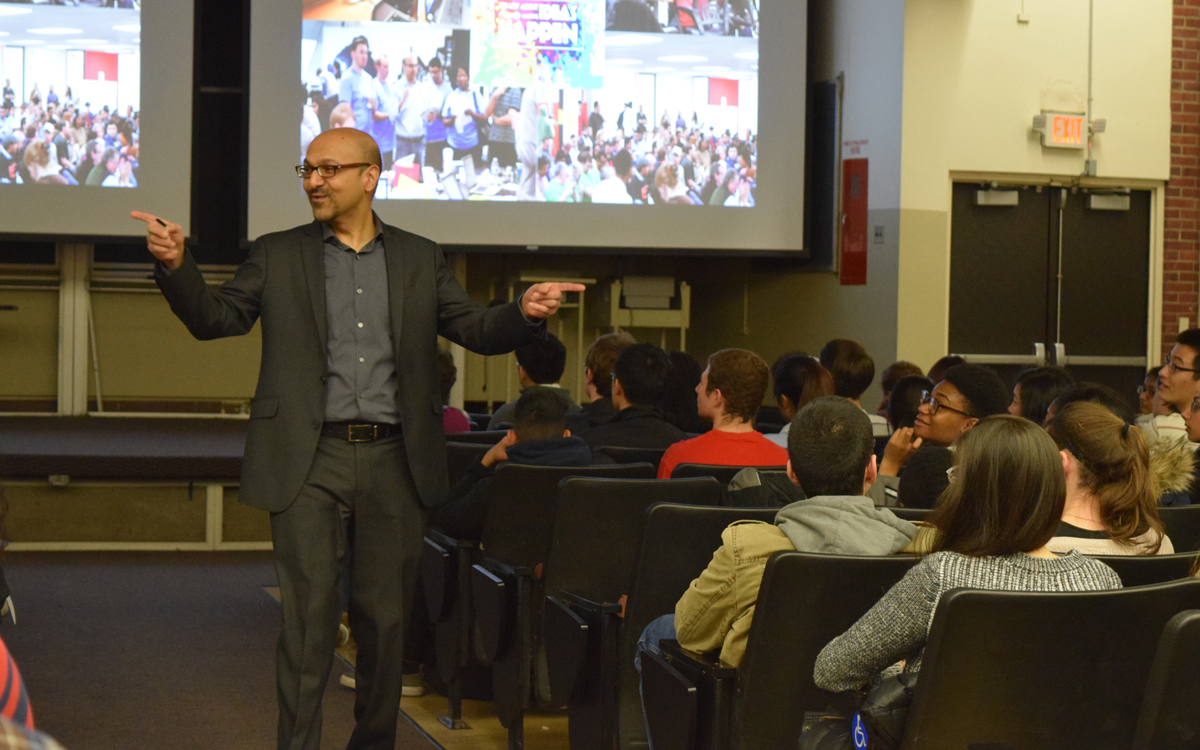 Mukesh Patel ★
Director of the Innovation Lab at the Honors College, New Brunswick. Serial entrepreneur, former principal at Juice Tank, expertise in private equity, angel investments, business law, education.
 
Aaron Price 
President and CEO, NJ Tech Council, and founder of Propelify Innovation Festival, attracting tens of thousands of participants. Builder of technology and business networks, and Transition Team member in technology and innovation for NJ governor.
Dr. Jeff Robinson ★
Award-winning business school professor, international speaker, and entrepreneur. Director of the Center for Urban Entrepreneurship and Economic Development. Noted for expertise in business planning, corporate venturing, and social entrepreneurship.
Dr. Mark Robson ★
Award-winning researcher in pesticide exposure and toxicology, and principal in building innovative education in the agricultural sciences. Expertise includes controlled-environment agriculture, policy, energy efficiency, agro-tourism, and sustainability.
Larry Ruff ⊰
Board Director, former CEO of Eat Real and Vice Chair of Fair Trade, USA. Noted speaker and educator. Recognized for work in partnerships between responsible companies and farmers, conscious consumers, and as the leading certifier of Fair Trade products.
Nick Saul
President and CEO of Community Food Centres Canada, noted food and social justice activist and author. Former Executive Director of The Stop Community Food Centre, leading advocate for access to healthy food, gardening space, and resources for low-income communities.
Ben Schellack
Entrepreneur and teacher. Co-founder of OQ Coffee, later Penstock, independent coffee purveyor centered on sustainability, education, community, and excellence of product—fairly sourced, and built around promoting social action and local business.
Dr. George B. Stauffer ★
Dean, Mason Gross School of the Arts, Distinguished Professor, Musicology, and noted scholar and interpreter of J.S. Bach. Educator and teacher on questions of intersections between music and neural science.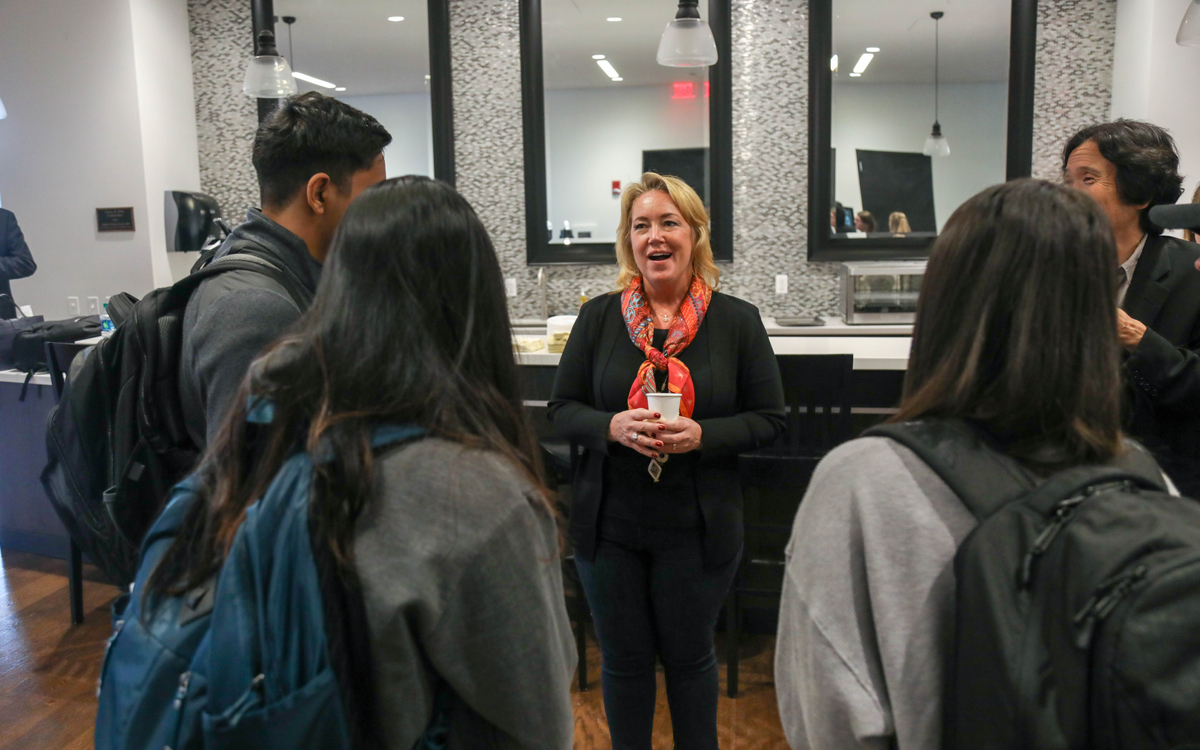 Amy Towers
Humanitarian and philanthropist, former hedge-fund manager, board member for UNICEF, Human Rights Watch, and founder of NGO Nduna, providing aid to African countries around food security, HIV/AIDS, education, environmental conservation, and wildlife restoration.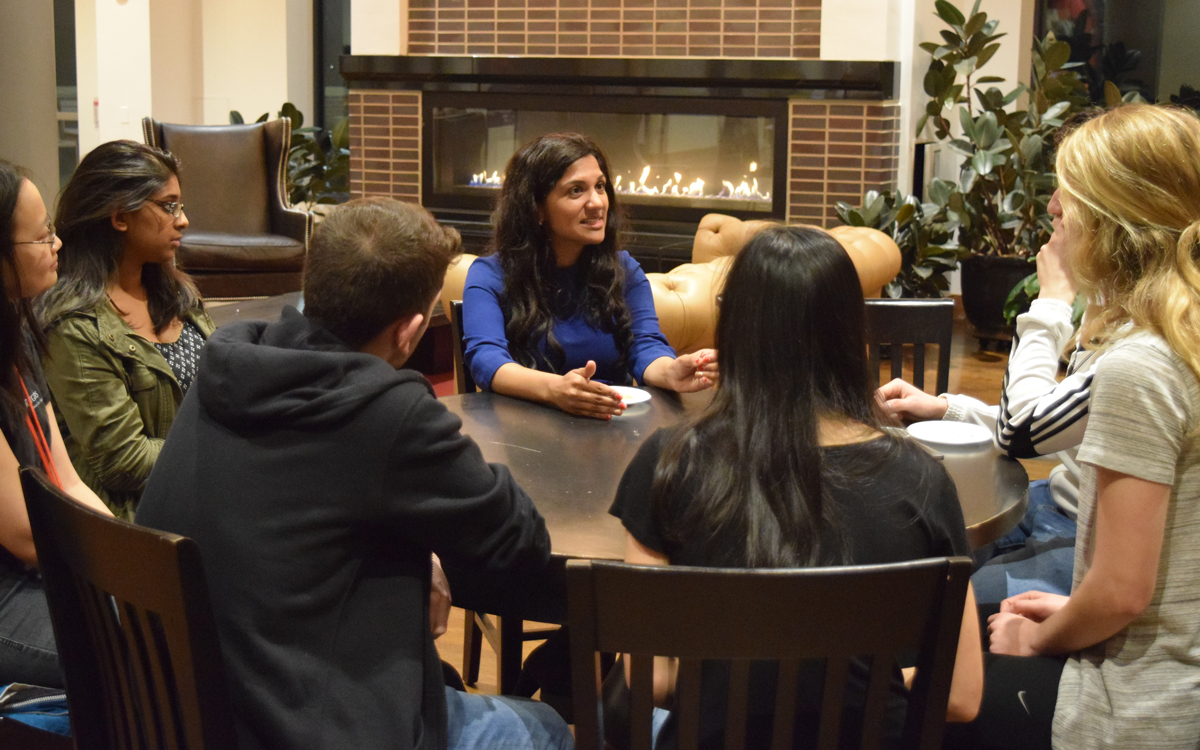 Dr. Nina Vasan ♦
Renaissance woman: Harvard graduate in Government, Stanford M.D., co-author of Do Good Well: Your Guide to Leadership, Action, and Social Innovation, and founder of the start-up Brainstorm, integrating community health care with brain research.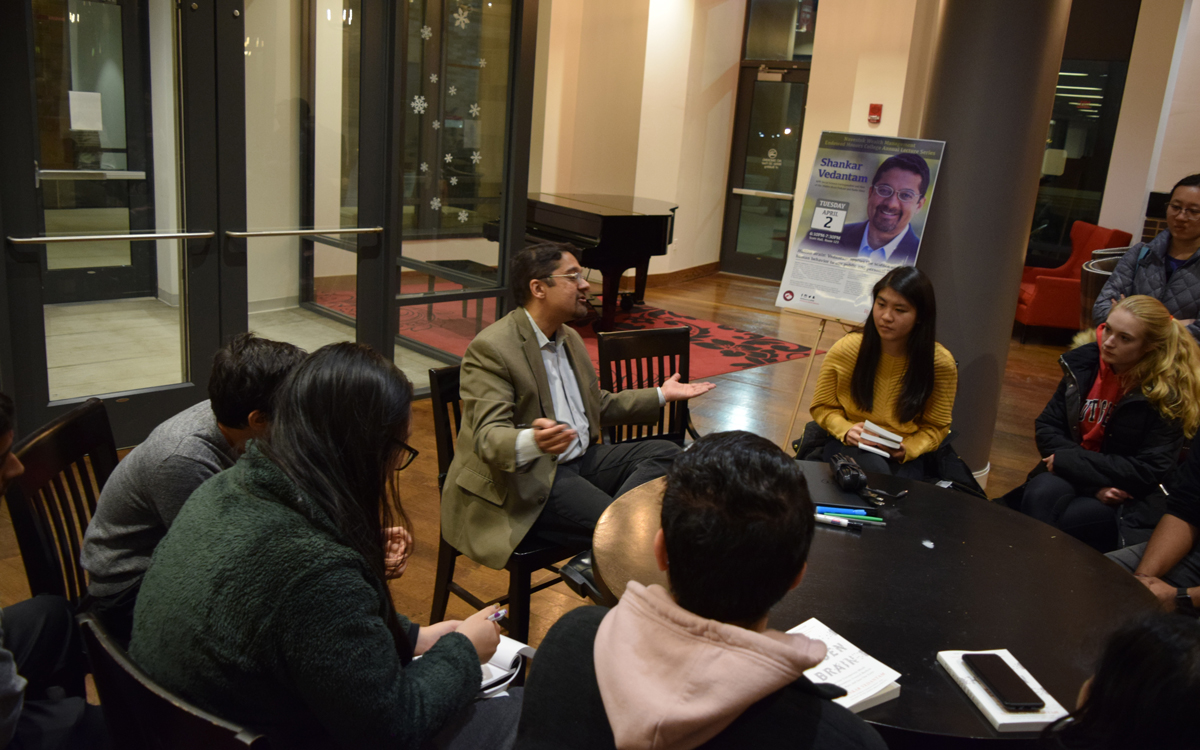 Shankar Vedantam ♦
 
Host of the nationally syndicated "The Hidden Brain" podcast series on NPR, journalist, and author of The Hidden Brain, popular science writer on human cognition, psychology, and social, economic, political, and cultural behaviors.
Village Playback Theatre
Improvisation company, utilizing techniques drawn from stage drama, musical performance, dance movements, and overlapping narratives to build personal storytelling experiences with audiences. Recognized for work with artists guilds, also prisons, schools, and community centers.
---
♦ Navesink Lecturer     
★ Rutgers Faculty    
⊰ Rutgers Alumnus/Alumna
---