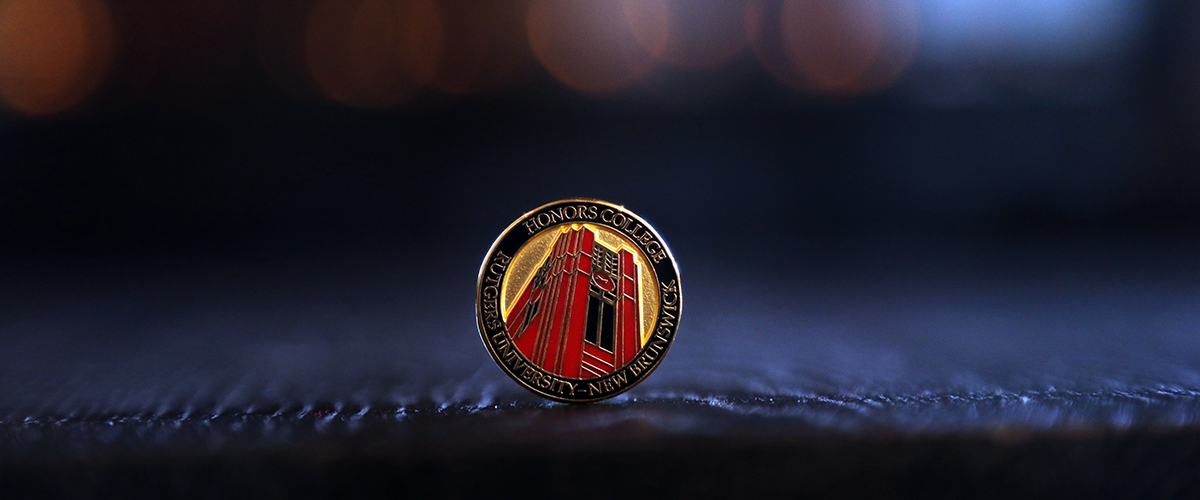 Overview
Honors College students who develop as professionals by engaging in their HC community through programs focused on career development, leadership, diversity and inclusion, networking, and teaching earn points towards the exclusive Honors College Merit Pin, which you can wear for networking events, interviews, and other professional events!
Student involvement is tracked with event attendance and program participation confirmation from staff. Involvement reviews take place at the end of each academic year and if you are eligible for the HC Merit Pin you will be invited to receive your HC Merit Pin at our annual HC Summer Sendoff Event in early May.
Requirements & Criteria
Total points needed to earn HC Merit Pin = 10
Students can earn points during all four years of their Honors College experience.
Once students earn the required 10 points to receive an HC Merit Pin, they are invited to receive their HC Merit Pin at the annual HC Summer Sendoff Event in early May. 
Points Checklist
5 Point Category of Engagement
1 year of leadership service at the HC: HC Scholar Peer Mentor board members and senior mentors, Changemaking Mentors, Wellness committee member, HC Serves Leader, GenHC Mentors, Traditions committee member, HC Lead Ambassador, HC Resident Assistant, HC RHA Leader, Media Team Lead, HC Undergraduate Interns
4 Point Category of Engagement
Volunteer as an HC Scholar Peer Mentor
Participate in a DRC STEAM Innovator program
Serve as an HC Ambassador for an entire academic year
Write for the HC Blog during an academic year
Serve as an HC Media Team member
2 Point Category of Engagement, includes but is not limited to the following...
Participate in the Annual Resume and LinkedIn 101 Workshop 

Participate in the Annual Grad School Personal Statement Workshop
Network at the Annual Career & Research Mixer
Participate in the Annual How to Find a Summer Opportunity or How to Find a Clinical Experience Workshops 
Network with an HC Alum for an appointment during our Annual HC Career Mentorship Week
Attend an HC Info Session on Study Abroad
Network at the Annual Summer Sendoff BBQ 
Participate in an HC Peak Performance Series workshop
Attend the Networking Through Golf Clinic series
Attend an HC Master Class or Career Chat program with C-Suite professionals and alumni
Perform at an HC Coffee House
Do an instagram takeover or featured FB post with the HC Director of Communications