By Simran Fernandes ('19, RBS/HC/DRC) and Kaitlyn San Miguel ('19,SAS/HC)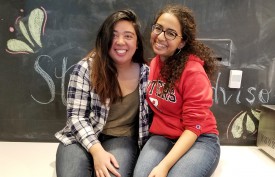 As we approach the last 100 days to graduation, we've been thinking about the many unique experiences Rutgers has provided to us—some small and some life-changing. Below, we've shared a list of the top 100 things that you should do before graduation too:
Honors College Things to Do
Pick up your postcard from the Induction Ceremony four years ago from the Honors College front desk.
Attend an info session about scholarly reports (if required) or contact Dean Matsuda for questions.
Take a selfie with the jerry can for good luck.
Stay in touch with all the HC happenings over social media.
Keep in touch with your HC network by joining the HC LinkedIn group and the HC Alumni Society.
On Giving Day, drop by the HC Fireside Lounge to donate a dollar and leave your legacy.
Enjoy dinner with the Mazzeos! Sign-up links are available in the weekly newsletter and online events calendar.
Visit and cook with Dean Matsuda during his open kitchen hours.
Attend crafting nights with Dr. Hartman in the East Lounge.
Finish and submit your scholarly report (if required) and capstone.
Honors College Scholars, celebrate your hard work over the last four years by receiving your medal at the HC Convocation!
Sign up for Senior Days and spend them back at the HC. Be sure to attend the brick dedication ceremony for your class!
Study in the courtyard when the weather's nice.
Purchase HC merch like tumblers and hoodies at the administrative office.
Indulge in coffee, hot chocolate, or tea on weekday mornings at the Coffee Bar.
Attend or perform at one of the last Coffeehouses!
Visit HC deans and faculty at Friday Coffeebreaks or office hours.
Jam out with a dance party or yoga in a HC seminar room.
Visit the Makerspace and make your own fun craft!
Cry about leaving the HC.

 
Make sure you're on track to graduate by visiting your academic advisor!
Check Degree Navigator to make sure all your requirements are complete.
Check out the Alumni House at Van Nest Hall.
Join the young undergrad alumni email list.
Keep your LinkedIn up-to-date by taking a professional headshot.
Take your graduation photos in your Rutgers apparel or gown.
Cry about leaving Rutgers.
Pull an all-nighter for your last final exams because is it really college without one?
Find your perfect career match by researching and applying to jobs.
Send thank you emails to faculty and staff who have helped and inspired you throughout the years.
Celebrate your transition to RU alum status by donating $25 and receiving a philanthropy cord for graduation.
Purchase your graduation robes at Barnes & Noble.
Take pics with the Revolutionary sign outside the Visitor Center on Busch.
Memorize the Rutgers alma mater in preparation for graduation.
Express yourself at graduation by decorating your cap beforehand.
Attend school-specific graduation ceremonies in May.
Dazzle potential employers by updating your resume.
Book your commencement parking.
Make the most of your last spring break with a fun trip!
Reconnect with your first-year hallmates.
Listen to Graduation (Friends Forever) by Vitamin C.
Walk through the Old Queens gate.
Learn how to use NJ Transit for your potential future commutes.
Plan a graduation celebration or trip!

 
Sign up as a volunteer for Dance Marathon to support the local community.
Participate in Relay for Life to raise funds and awareness for cancer research.
Dress up in scarlet to attend a Rutgers sports game!
Grab hot dogs on College Avenue on Hot Dog Day.
Go to any dining hall for Midknight Breakfast the day before finals
Study in the Zimmerli Art Museum at their Art After Hours event
Do the tower jump at the Werblin Recreation Center.
Attend comedy shows in downtown New Brunswick.
See a movie at Rutgers Cinema ($5 tickets for shows before 6 PM!)
Catch a show at Mason Gross - there are student discounts.
Attend a free Fitness & Wellness class at one of the campus gyms.
Explore the different campuses and fun activities offered by each club and department on Rutgers Day.
Listen to live music and chow down on carnival food at the New Jersey Folk Festival!
Reach new heights while rock climbing at the College Ave Gym.
Relieve some of your senior stress by petting therapy dogs during finals.
Go to a professor's office hours one last time.
Compete with your friends as an intramural sports team.
Attend a Backpack to Briefcase session hosted by the Department of Leadership and Experiential Learning.
Watch the sunrise over the Jersey Shore.
Have a great adventure by visiting Six Flags!
Go to New York for a Broadway show or a food crawl.
In a truly revolutionary spirit, head to Philly and experience some of the country's history for yourself.

 
Picnic at Passion Puddle.
Stargaze for free at the Astronomy Observatory on Thursdays!
Take advantage of the free admission at the Zimmerli Art Museum.
Get lost in Lucy Stone Hall.
Bring your boo or your BFF to the kissing bridge for a cute photoshoot.
Play a round at the golf course on Busch.
Soak up the sun with a stroll through Rutgers Gardens.
Find the bowling alley under Loree Hall.
Admire the graffiti walls in Demarest Hall's basement.
Enjoy a delicious and fancy dinner at the Rutgers Club on Livingston.
Visit Willie the Silent in Voorhees Mall.
Go swimming at the Olympic-size pool at the Werblin Rec Center.
Pet the goats at the Johnson Park Petting Zoo.
Visit the horses at the Cook farm.
Stroll along the Raritan River at Deiner Park.
Walk through the Livingston Ecological Preserve.
Hit the books at every library on campus.
Take a picture with the Scarlet Knight at the Yard.
Experience the Raritan like never before with a trip to the boathouse
Play some arcade games at the Rutgers Zone.
Head to the Rutgers gyms for a workout.
Focus on your mental health by attending a CAPS session.
Visit your friends while you're all still in New Brunswick together.
Take all the Rutgers buses and breathe a sigh of relief that the bus struggle is almost over.

 
Enjoy all the Rutgers dining halls have to offer by going to each one.
Eat some delicious Brower pizza!
Gorge on a fat sandwich.
Catch up with friends over a meal at Henry's Diner.
Get some fresh food at Harvest Cafe.
Stuff your face with the iconic Easton Ave strombolis.
Use all your meal swipes at Woody's or the Cook Campus Center.
Visit your favorite spots on Easton Ave!
Use your RU Express balance to visit off-campus restaurants.

 
 
Make your own Rutgers tradition with your friends to celebrate for years to come.