By Sophia Hsueh ('24, SAS/HC)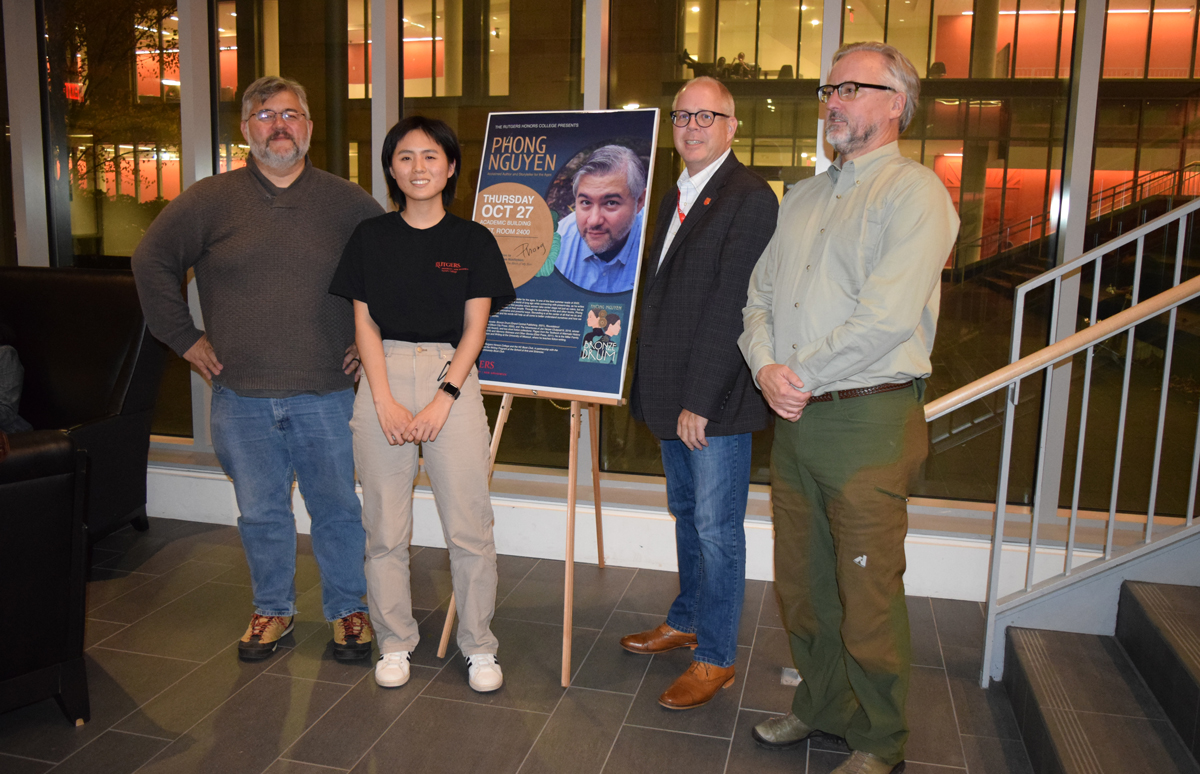 A tale of Vietnamese independence and defiance of gender roles, the story of Trưng Trắc and Trưng Nhị is passed down from generation to generation in Vietnamese culture, as it was from Dr. Phong Nguyen's father to him. Storytime included all the classics: Cinderella, Sleeping Beauty, and the Trưng sisters. Only when he compared stories with his classmates did he find that no one else had heard of the sibling heroines of Vietnam. "I soon realized that if I ever wanted to read a story about the Trưng sisters, I would have to write it myself," Dr. Nguyen said.
On Thursday, October 27, the Honors College and HC Book Club, in partnership with the Department of English and the Writing Program at the School of Arts and Sciences; and READ, the Rutgers University Book Club, had the pleasure of receiving Dr. Nguyen, Professor and Miller Family Endowed Chair in Literature and Writing at the University of Missouri, during his book tour for his latest novel Bronze Drum. A retelling of the classic Vietnamese story he once heard at bedtime, Dr. Nguyen adds to the story more than just the historical facts and legends but also characterization and depth that bring the Trưng sisters to life, giving them a sense of familiarity to the modern reader. Through this work, Dr. Nguyen hopes to provide his readers with a view of Vietnam not limited to its more recent history of war, instead showing them the strength and pride of Vietnamese culture.
At the beginning of the evening, the HC Book Club had the opportunity to speak with Dr. Nguyen in a more in-depth discussion of Bronze Drum, gaining insight into his writing process. When asked about his intention behind the tiger, which appeared multiple times throughout the story, Dr. Nguyen responded that while the tiger was at times a reference to historical events and other times simply a plot device, he welcomed and encouraged readers to take away their own interpretations of his work, referencing Roland Barthes' concept of reader autonomy in interpretation from The Death of the Author.
During this conversation, Dr. Nguyen discussed not only the contents of the book but also the parts left unpublished. "Sometimes I refer to parts of the story that aren't actually in here," he said, gesturing to the book on the table. One such part was a fascinating account of the 36 female generals whose legends are passed down with the story of the Trưng sisters, out of which only one general remains in the final copy due to Dr. Nguyen's deep impression of her: Phùng Thị Chính, who gave birth on the front lines before continuing her fight on the battlefield alongside the sisters. Gaining insight into these nuances in book writing and publishing during our small group discussion with Dr. Nguyen provided members of the HC Book Club with a new perspective on the works they read.
While the HC Book Club regularly meets to discuss our readings, our typical meeting by our little library became something special this time thanks to Dr. Nguyen's visit. As an avid reader and member of the book club since my freshman year, I am truly grateful to have had this unique opportunity to learn so much about this fascinating book and get to know Dr. Nguyen beyond its pages.
Later in the evening, during his public talk "From Historical Fiction to Contemporary Creative Nonfiction: Writing Bronze Drum and The Book of My Son," Dr. Nguyen spoke to students about the path he took to writing his current works, stating that an author's book is not a singular, independent event, but rather a product of their journey. He shared his inspirations and challenges for each of his works, from exploring new methods of writing in Pages from the Textbook of Alternate History and Roundabout: An Improvisational Fiction to taking inspiration from topics closer to home as in Bronze Drum and his current work, The Book of My Son. While Bronze Drum was not his first work of historical fiction, as he had composed various anecdotes of historical figures making history-changing choices in Pages from the Textbook of Alternate History, he was faced with a new challenge. The story of Trưng Trắc and Trưng Nhị, while well-known in Vietnamese culture, had lapses and incongruencies in historical accounts, characteristic of most legendary tales. The unique balance of historical accuracy, modern representations, and the added plot elements Dr. Nguyen has found in telling the story of the Trưng sisters make for a unique and meaningful novel, prompting us all to be more aware of the representations of our identities in the media we are exposed to. Be it through writing or another medium, Dr. Nguyen has taught us we can write our own identities into the world we live in.
As a final message to students interested in writing, Dr. Nguyen shared a habit he has developed throughout his career: writing every day. He said,
"No one starts out writing masterpieces from their first attempt. Writing is a skill that almost anyone can improve as long as they keep practicing consistently."
---
Sophia Hsueh is president of the HC Book Club and worked closely with Honors College Dean Bowers in organizing Dr. Nguyen's visit.
Phong Nguyen is the author of three novels: Bronze Drum (Grand Central Publishing, 2021), Roundabout: An Improvisational Fiction (Moon City Press, 2020), and The Adventures of Joe Harper (Outpost19, 2016, winner of the Prairie Heritage Book Award); and two short fiction collections: Pages from the Textbook of Alternate History (Mastodon Publishing, 2019) and Memory Sickness and Other Stories (Elixir Press, 2011). He is the Miller Family Endowed Chair in Literature and Writing at the University of Missouri, where he teaches fiction-writing.