Tue, May 02 | 4:00 PM
President's Tent, 15 Seminary Place, New Brunswick, NJ
What to Expect at the Honors College Scholars Convocation
Congratulations, graduates! Your hard work has paid off.
Celebrate your achievement at the Honors College Scholars Convocation for the Class of 2023.* At this much-anticipated ceremony, our Dean will be awarding the Honors College medal to students who have completed all requirements to receive recognition as an "Honors College Scholar." Below is a brief look at what the Honors College ceremony will entail for graduating scholars.
* Graduation events are two-part: convocation and commencement. Convocation honors and recognizes the individual graduates and the honors earned from the Honors College. The 257th Anniversary Commencement celebrates all members of the Class of 2023 from Rutgers–New Brunswick and Rutgers Biomedical & Health Sciences at one event. It is at Commencement where President Holloway confers the degrees. Learn more about the University Commencement.
---
 Ceremony Program
We look forward to celebrating you as Honors College Scholars at our upcoming convocation.
◊ Opening  ◊
J.D. Bowers, PhD
Dean, Honors College, Rutgers University–New Brunswick
◊ Remarks ◊
Francine Conway, PhD
Chancellor-Provost, Rutgers University–New Brunswick
◊ Convocation Address  ◊
James Dougherty (RC '74, GSNB '75, VMD), a supporter of the Honors College and a member of the Rutgers University Board of Governors
◊ Presentation of the Honors College Medal ◊
Please hold your applause until all names have been read.
◊ Reader ◊
Krista Klein, PhD
Assistant Dean, Director for Student Outreach & First-Year Transition, Honors College, Rutgers University–New Brunswick
◊ Honors College Scholars Presenters ◊
Taqiya Ehsan, School of Engineering
Gavin Wagner, School of Environmental and Biological Sciences
◊ Induction Into the Honors College Alumni Society ◊
Co-Leads of the Honors College Traditions Committee
Jillian Matje, School of Arts and Sciences
Peristera Vikatos, School of Arts and Sciences
◊ Closing ◊
J.D. Bowers, PhD
Dean, Honors College, Rutgers University–New Brunswick
---
 Come Prepared
All Honors College Scholars MUST complete the mandatory Honors College Senior Exit Survey as well as the Rutgers Center for Career Exploration and Success Exit Survey by April 28 to participate in the Honors College Convocation. Complete the surveys now, if you haven't already.
Bring your Scholars Convocation tickets when you arrive with your guests. All tickets will be scanned upon entry to the President's Tent. *See Registration & Tickets Section below on how to obtain your tickets by April 25.
Register your vehicle for the event parking. *See more in the Parking Section below.
Come dressed in your academic regalia (your cap and gown), which is required for participation in the Scholars Convocation—no exceptions.
Wear comfortable shoes as you'll be walking and standing for a long duration. You'll want to be comfortable!
Be prepared to pass through security before entering the President's Tent. We prefer that you do not bring a bag, but if you do bring a bag, it will be inspected. Those with oversized or prohibited items may be directed to return such items to their vehicle. Exceptions will be made for medically necessary items after proper inspection. View the Gate Procedures & Prohibited Items list.
Remember to bring your photo identification.
Fill out the Special Accommodations Form by April 18 if you or your guests require any accommodations, including special-needs parking, seating, alternate viewing options, and traveling on campus. People requesting parking accommodation will require handicapped signage on their vehicles. *See Event Accessibility section below.
Check out the Senior Year Experience webpage to learn all you need to celebrate your upcoming graduation and prepare for life as alumni.
NOTE: Honors College Scholars who were unable to attend the convocation will be able to pick up their medals at the front desk of the Honors College offices starting on Thursday, May 4 during business hours from 9:30 a.m. to 4 p.m.
 Registration and Tickets
TICKETS ARE REQUIRED FOR THIS EVENT DUE TO LIMITED SPACE.
Each Honors College Scholar will be provided with TWO guest tickets in addition to their own ticket. Tickets will be required for both the President's Tent and the expanded outdoor seating just beyond the perimeter of the tent. While we can accommodate two guests per student, please note that the seating inside the tent is first-come, first-served, and your guests may be seated in the outdoor area. This event will take place rain or shine. 
Other guests can view the Scholars Convocation live stream in the adjacent Academic Building, room 2400, or from the Honors College website (more below). Seating in the Academic Building is first-come, first-served and does not require a ticket. 
NOTE: The ticketing is provided via Rutgers Student Affairs TIX platform. You will need an account in order to obtain your tickets.
 
Register and get your tickets by April 25!
We cannot guarantee tickets after April 25.
 Arrival and Procession
Please allow at least 30 minutes to park and get to the President's Tent. Please refer to the parking section below for more details.
The doors will open at 2:30 PM to check in at the Tent.
Upon arrival, check in at the Tent and then head to the Honors College South entrance. Go to the Druskin Lounge to gather with fellow graduates.
All graduates should plan to arrive at the Honors College Druskin Lounge no later than 3:00 PM to allow time to find your place in the procession area.
The ceremony begins promptly at 4:00 PM with the student procession to the Tent.
In the procession area, line up with your classmates.
If you want to sit with friends, be sure they are standing in front of or behind you.
Plan to process in a dignified, single file line, with some formality.
Smile as you process – you're on camera! Follow the instructions of the Scholars Convocation Ambassadors as you walk to your designated seating area in the Tent.

 
 Event Parking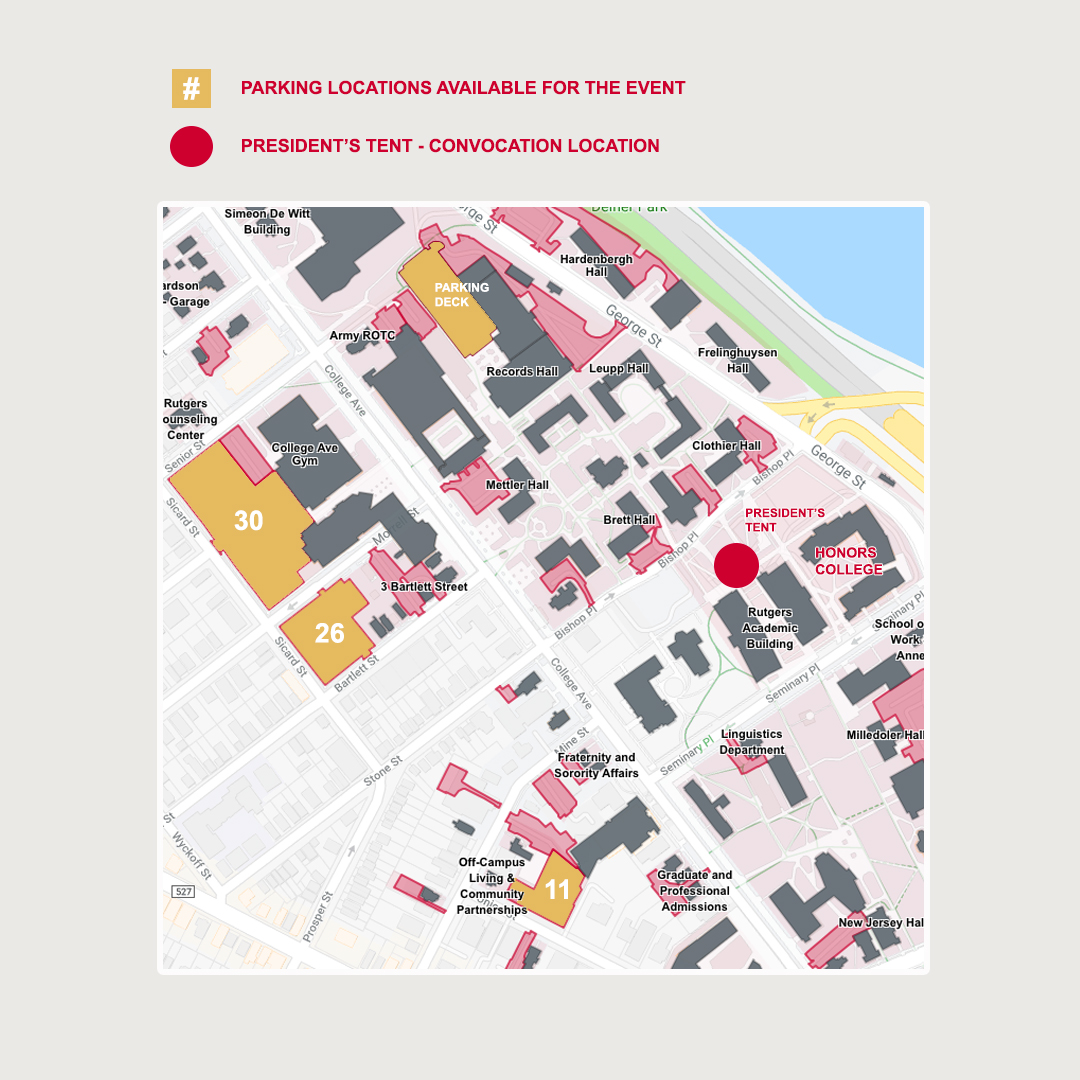 Special event parking will be available in the following locations:
View each location above to get directions. You can also zoom in on the parking map provided to you on this page or visit the main Rutgers Map to identify where these parking lots are located in advance of your arrival.
Before arriving at the event and parking, guests must register a vehicle to be able to park at the available locations, otherwise guests may receive a citation.
 Photography
Rutgers has partnered with Pro Pics to take professional portraits of all graduates during the ceremony. Photos will be available for purchase after the ceremony. There is no cost to have your photo taken and no obligation to purchase. If you would like to receive your photo proofs, please go to www.RutgersPhotos.com to submit your information. If you have any questions regarding photos, please contact Pro Pics.
All students are encouraged to share their memories from the Convocation on social media. You can tag us in your posts @ruhonorscollnb. We may share your posts online after the event.
 Livestreaming of the Event
Please be aware that this event will be livestreamed by Rutgers iTV for your convenience at the adjacent Academic Building, room 2400. 
This live stream will also be available on the page below. Please share this with your family and friends who are unable to attend the event in person.

The ceremony and live stream will begin at 4:00 PM EDT on Tuesday, May 2, 2023.
---
 Event Accessibility
Rutgers University strives for our campus experiences to be universally designed and useable by all people to the extent possible. If you require an accommodation to participate in this event, please fill out the Special Accommodations Form by April 18. 
People requesting parking accommodation will require handicapped signage on their vehicles.
Rutgers University complies with all applicable federal and state laws regarding non-discrimination, equal opportunity, affirmative action, and providing reasonable accommodations for persons with disabilities.
---
NOTE: For graduates who have guests coming from abroad and need a letter to accompany their visa application, please visit Rutgers Global website.