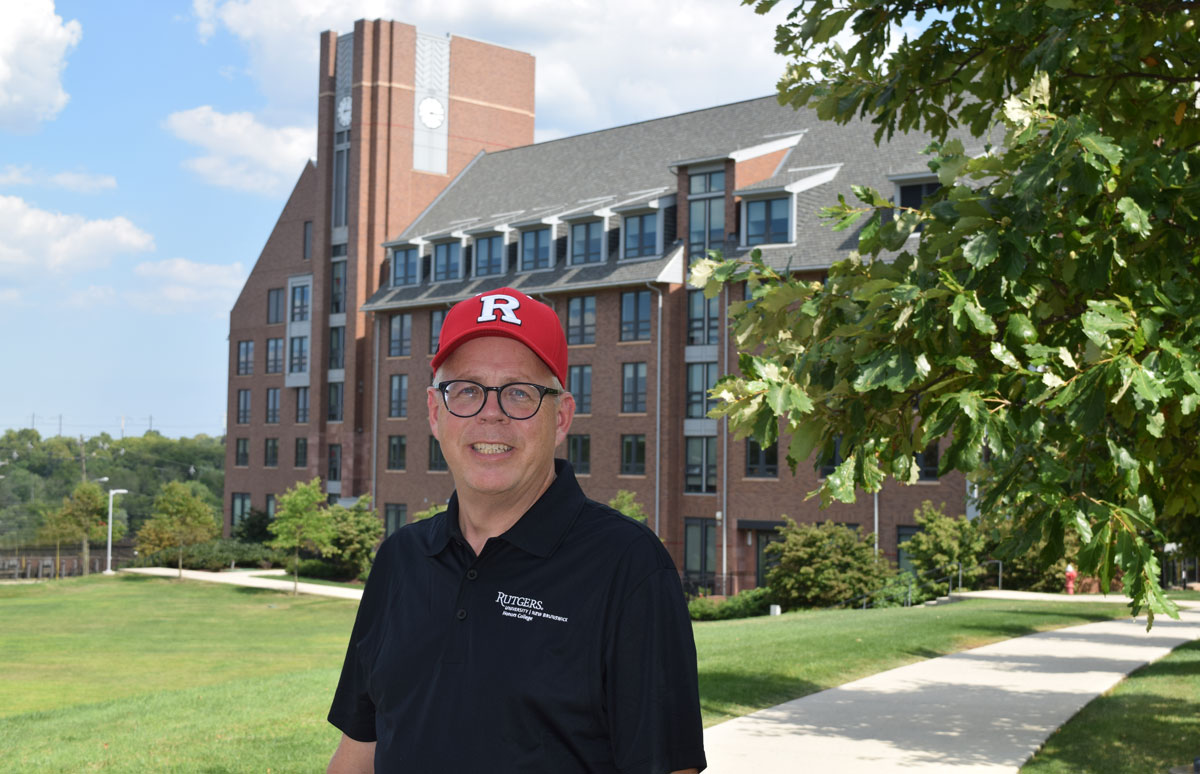 Rutgers University Honors College welcomes Dr. J.D. Bowers as our new dean. Overseeing the comprehensive living-learning community of more than 1,500 students from across the University's six admitting schools, Dean Bowers' depth of experience and national presence in honors education has already proven to be of significant benefit in securing new resources for students as we prepare to open the academic year and welcome our newest class.  
As he returns to his childhood roots in New Jersey and Pennsylvania, he brings over fifteen years of work in honors and thirty plus years in higher education to benefit our students.
His honors work has been characterized by securing significant scholarships and other resources for students, innovative curriculum design and engaged learning, and significant gains in programmatic and individual student outcomes. His scholarly research, centered around social justice, will also provide our students with extraordinary opportunities as they pursue their unique expressions of our shared mission around positive social impact through service and belonging.
Dean Bowers has chosen to live in the building alongside two other Honors College Faculty Fellows, Dr. Mary Chayko and Dr. Aaron Mazzeo, and together they will provide unique programming to enrich and transform the day-to-day community experience of Honors College students through informal gatherings, expert area talks, chats at the coffee bar, and extended mentoring and office hours.
"This is an important moment in the relatively brief history of the College as we look forward to realizing our newly expanded curriculum around social justice and our continued service work, and I am grateful to have inherited the spirit, vibrancy, and advantages of such a community in which our students are deeply invested in our mission and outcomes," notes Dean Bowers.
"Building upon the achievements of the past seven years, I hope to not only secure the legacy of what has been successful, but also take the College and our students to new heights. Our many voices and abundance of experiences will allow us to create a truly rich and inclusive community, tending to the needs of everyone, while continuing to provide exceptional and unmatched opportunities, an unrivaled experience, and great success. My vision is all aimed towards a generational experience of achievement."
To learn more about our new dean, please read below, excerpted and amended from Chancellor-Provost Conway's welcome letter announcing the hire of Dr. Bowers.
---
June 8, 2022
Dear Rutgers–New Brunswick Community,
I am pleased to announce the appointment of Dr. Jerome David (J.D.) Bowers II as Dean of the Honors College, a role he will assume July 1. He will also serve as Professor of the Practice in the Departments of Africana Studies and History, School of Arts and Sciences, and as a Faculty Associate in the Center for the Study of Genocide and Human Rights, Rutgers Global.
Dr. Bowers comes to Rutgers from the University of Missouri (MU), where he led its Honors College through a six-year period of enrollment growth during which he oversaw a significant increase in entering student achievement, major revisions in curriculum, and responsiveness to the challenges of social and cultural movements. He raised more than $12 million to support the college's programming, established 10 new scholars' programs, and helped students contribute more than 24,000 hours annually to the institution's research mission. He also served MU as Professor of Black Studies and History, and as Director of Undergraduate Studies in the Department of Black Studies. Prior to Mizzou, he spent thirteen years at Northern Illinois University.
He is a nationally recognized innovator in undergraduate research and scholars' programs, having created the MU Honors College's ASH Scholars program in which arts, social science, and/or humanities students collaboratively work as members of a faculty-led research or design team; and Black Studies' Sankofa Scholars program, an open-access scholarship and mentoring program. As the lead faculty mentor for prominent programs including MU's Stamps Scholars, Brazeal Scholars, and Blatchford Scholars, as well as Northern Illinois University's McKearn Fellows Program, he focused on ensuring the inclusion of Black and Native American students.
Dr. Bowers' national service as the executive director of the Council on Honors Education (CoHE) which he co-founded in 2018, will continue into his first years here at Rutgers. His role places him at the head of one of the nation's two leading professional associations for honors colleges and programs, dedicated to member schools' land-grant and public missions, and the unique ways honors education serves institutions and their students.
Please join me in welcoming Dr. Bowers ... I look forward to Dean Bowers' contributions to our university's mission of excellence in education, research, and public service.
Sincerely,
Francine Conway, Ph.D.
Chancellor-Provost, Rutgers University­–New Brunswick
 
---
Learn more about Dean Bowers by visiting his profile page. 
Read the Dean's Welcome Letter to Honors College students.