By Chuck O'Donnell | TAPinto New Brunswick, August 31, 2022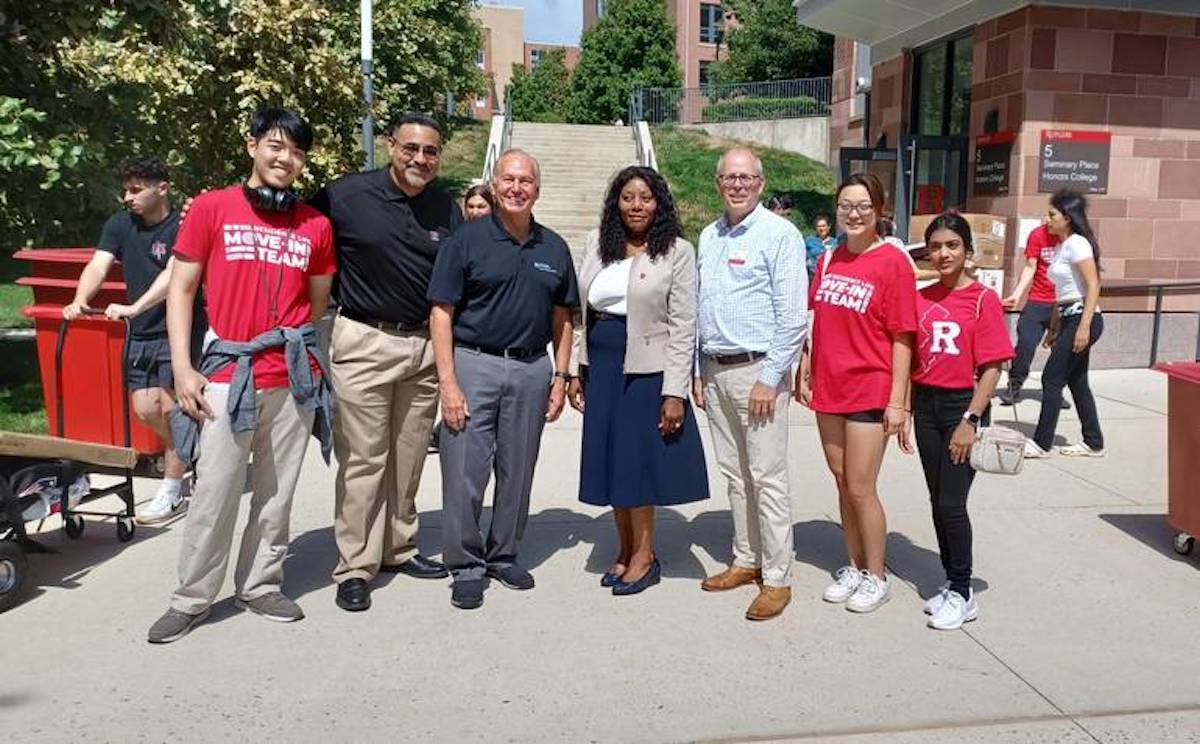 NEW BRUNSWICK, NJ – Kelly Goodall arrived at the entrance of Rutgers' Honors College with four overstuffed suitcases, a stack of new bedding and enough hair care products to practically open her own salon.
"Well, I might have overpacked a little bit," she said. "At least I'll have everything."
Students arriving for the time-honored Move-in Day event on Wednesday, Aug. 31 brought everything but the kitchen sink, although even one of those may have been hidden inside one of the giant boxes and crates that were being offloaded from parental minivans along Seminary Place.Goodall, a Toms River native, is one of 7,900 or so first-year students arriving in New Brunswick this week. Rutgers will also be welcoming 2,100 transfer students to on-campus housing in the city.
Cases of Keurig pods, flat screen monitors, six-count packs of body spray, boxes of instant ramen, wall mirrors, electrical power cords, shower caddies, PS5 gaming consoles, framed family photos and even a few stuffed animals were being loaded into scarlet red carts and pushed into the living spaces where students will get their first taste of college. (Let's hope it's more palatable than all those Pop-Tarts.)
One optimistic freshman thought it prudent to bring an ironing board, which announced its unlikely arrival with a loud screech as it accidentally collapsed onto the sidewalk. Passersby noted it would make for a terrific beer pong table.
Although students such as Goodall ignored the advice of her father, Pete, Class of '92, and packed a lot, there were others who were wistfully lamenting the items left behind.
Lisbeth Garcia, who had started her trek from Chesterfield in Burlington County to New Brunswick at 7:20 Wednesday morning, remembered to bring her electric bass guitar.
"But I forgot the stand," she said. "I hope I'll have it by the middle of next week."
It wasn't clear if mom and dad would be making a return visit or if it could be sent through the mail.
Wednesday's event was a huge undertaking made smoother by the help of Rutgers University Police, which directed traffic, and Rutgers upperclassmen volunteering to carry 24-count cases of bottled water up three flights of stairs.
The volunteers were people such as Giancarlo Garcia, a sophomore sociology major, who took his role seriously as an initial point of contact for arriving students.
"I think there's obviously a lot of perks with being on the move-in team besides moving in early," he said. "I think just being able to help somebody get a good introduction to Rutgers is probably the biggest benefit I saw."
Rutgers' Chancellor-Provost Francine Conway, Vice Chancellor for Student Affairs Salvador Mena and Dean J.D. Bowers also welcomed students.
Conway noted the diversity of the 10,000 or Rutgers-New Brunswick students moving into on-campus housing, 28.6% of whom are first generation and 24.9% represent underrepresented minorities including Black and Latino students. 
No doubt some of the students rolling their carts past her on Wednesday took advantage of the Scarlet Guarantee, a financial support program for first- and second-year students that was championed by Conway.
"These are 1,500 students who would otherwise not have been able to make it to New Brunswick," she said. "So, access and affordability, but it's access to excellence. We have the best to offer, and for our students, it's not be stopped by finances is very huge."
If arriving students needed a little muscle, the city was there to help. 
Mayor Jim Cahill, Director of Human and Community Services Keith Jones II and Board of Education member Ivan Adorno unpacked SUVs and wheeled carts up the sidewalk.
Behind them, moms and dads waved goodbye to their children. 
There will surely be some tears shed on the drive home. And, let's face it, a few high-fives, too.
"From the parental perspective, it's the next step of letting go and watching your kids develop and mature," Cahill said. "And, it's a part of the learning and development process of how young people become adults who contribute to the community and this is really at the threshold of adulthood. They will become young adults here, and that's exciting."
---
FULL SOURCE: TAPinto New Brunswick | Ramen Noodles, Gaming Consoles and an Ironing Board: Move-In Day at Rutgers-New Brunswick