Article by Megan Wang ('21/SEBS, HC), a member of the HC Media Team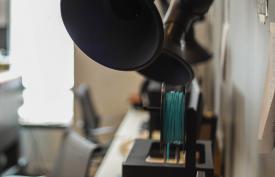 Open to All Rutgers Students
Located at the Honors College on the College Avenue Campus, the newest Rutgers Makerspace is now complete and open to all Rutgers students during the academic year on weekdays from 1-5pm, (room N104), and to HC students from 1-8pm.
Built as a resource for all Rutgers students who want to create, experiment, and tinker; and as a facility to help Honors College students fulfill the social innovation requirements of our curriculum, the Makerspace enables students to turn their ideas into reality.
There is a wide array of machinery in the Makerspace:
Sewing machine for sewing and embroidery
Vinyl cutter, commonly used to create labels or stickers
Laser engraver/cutter, suitable for making complex 2D cuts in cardboard, wood, acrylic, and paper
Spindle-based engraver, suitable for making complex cuts in foam, plastic, wood, and wax
3D printers, able to print plastic objects from an STL (stereolithography) file
CAD software available on Makerspace computers (can make STL files)
For those interested in electronics, the Makerspace also has wiring and soldering equipment, as well as Arduinos, microcontrollers for building digital and interactive objects that can sense and control objects in the physical world. Woodworking tools like a power drill, saws, screws, and paintbrushes are available too.
The possibilities for designing and implementing creative ideas are almost endless.
Dr. Aaron Mazzeo, Honors College Faculty Fellow and Assistant Professor in the Department of Mechanical and Aerospace Engineering, hopes the Makerspace at the Honors College can become a place for all Rutgers students to discuss and brainstorm a wide range of ideas, from personal and class projects, to socially innovative prototypes and even concepts for the International Space Station.
"For the Honors College, it represents a place where we can test ideas and get closer to building functional prototypes," said Dr. Mazzeo. "I hope that concepts developed by students in our mission course/Forum, and our sophomore course/Innovation Lab, will find their way into the Makerspace, whether they be materials for marketing, devices, or components for scientific experiments."
Akshay Kamath ('19/SAS) and his fellow Honors College teammates, Ethan Murad ('19/RBS) and Farhat Alam ('19/SAS), worked in the Makerspace to develop a social innovation called Nutrivide, a pacifier designed to help malnourished infants obtain nutrients needed for healthy development. Using a 3D printer there, the Nutrivide team created a prototype for their device. They were invited to present their innovation at the Clinton Global Initiative University Exchange last October in Boston.
Honors College students are encouraged to develop their ideas outside of class as well. As a place for brainstorming and implementing new ideas, Dr. Mazzeo holds Design Knights in the Makerspace on Tuesday nights: "We have lively discussions, challenge each other, and create solutions that will teach us how to become better designers, engineers, entrepreneurs, scientists, and artists."
First-year Honors College students who are interested in applying their creativity to electronics can take Dr. Mazzeo's Byrne Seminar on Paper-based Electronics and Art, which is also held in the Makerspace.
"The Makerspace represents the ultimate interactive classroom. We can be discussing ideas, sketching things, going through presentations in one half of the room, while others are designing and building their projects in the other half," he said.
All Rutgers students are welcome to use the Makerspace, with or without experience handling the tools and equipment—student staff members are always there to assist. Faith Johnson, a staff member and a junior majoring in computer engineering, has 3D-printed guitar picks, laser-cut band logos to decorate her dorm room, and built a "treasure chest," taking advantage of the available woodworking tools. She is currently working on 3D-printing a model of a Lamborghini.
"Before this, I had never used a 3D printer, laser cutter, or sewing machine, but because they are here, I could come in and say, 'Okay, I want to try something new,'" said Faith. "As staff, we're here to try and help you explore, so we'll be like 'Hey, so you might not know how to do this, but I can show you.' It kind of creates a cool space of learning and thinking of new things."
In addition to the Makerspace at the Honors College on the College Avenue Campus, all Rutgers students can use the larger, newly renovated Rutgers Makerspace on the Livingston Campus.
Video by Sophia Thai ('21/SOE, HC), a member of the HC Media Team