What Do You Want to Be Remembered By? What Does Peace Mean to You?
By Gavin Wagner ('23, SEBS/HC)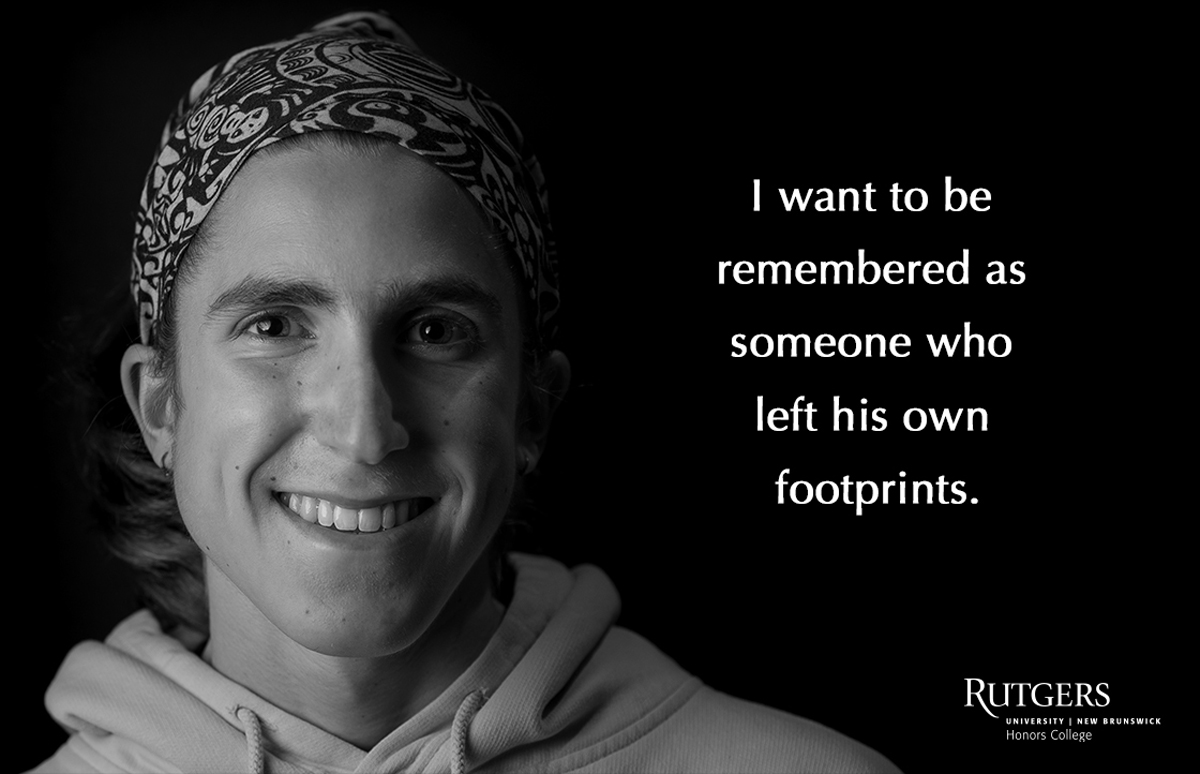 It was a rainy Friday evening during the spring semester of my first year. February of 2020– the calm before the storm. Our course coordinator for Honors College Forum sent out an email that included a survey, which asked for our availability over the weekend to help install an exhibit. That exhibit belonged to John Noltner. What began as a momentary burst of enthusiasm to lend a hand led to a relationship that I cherish to this day.
John Noltner is the steward of the multimedia art project "A Peace of My Mind." I like to think of him as a pioneer. While the project's scope is broad, its mission is simple: using storytelling to encourage dialogue about collective human experiences. There are a lot of structures in place that divide us, but John's work conjures introspection towards our shared humanity. This humanity is the universal bridge that crosses systematic divides. Our stories can reveal common threads that connect us, amplify our voices, and open our ears–no matter our identity.
Thankfully, the survey was less an application to help John and more of an invitation. The following day, I coasted into the HC Druskin Lounge to meet John and another friend who filled out the survey. Our task was to assemble John's portable exhibit: a series of banners that showcased 58 portraits, each with its own unique story. As we moved furniture, hoisted metal frames, and mounted the banners, John let us in on the background to some of the stories.
I learned that John departed from the freelance photography business to embark on a 40,000-mile road trip. To guide the interviews he conducted along the way, he centered one question: "What does peace mean to you?" As he zigged and zagged across the country, John connected the dots between human stories of peace, hope, and reconciliation. Arduous as the trip was at times, something about this work drew John to persist. "There are some jobs that feed the belly, and there are other jobs that feed the soul. If you're lucky, you get to find a job where you can do both," John shared. John's visceral connection to the art of the journey inspires me.
The week went by, and our forum sections got the chance to meet with John for individual portrait studios. In the nook next to the elevator in Druskin Lounge, John took our headshots and prompted us to respond to one of two questions: "When have you found unexpected courage?" and "When have you bridged a divide?" The finished products were black and white, but they lent a colorful spirit to the East Lounge. Strung up around the cylindrical pilings, this mosaic of Honors College voices is one of my last memories from that spring before the pandemic sent us home.
I returned to the Honors College a year and a half later. Outside, a tyrannical August heatwave shook its hot fist. My fellow Changemaking Mentors and I sat in the East Lounge, catching up over pears from my garden and composing ourselves for mentor training. It was a blurry part of my life. A three-day journey from my blissful job in Maine to the realities of college life left me a tad ungrounded, and I wasn't myself. I gazed up at the pilings. I wondered where the portraits ended up, and their memory calmed me. I felt that it was time to pay John a call.
John and I had kept in touch over the pandemic. I pitched my idea to him: a portrait studio hybrid event, similar to what he had brought to us back in 2020 but tailored to the limits that COVID-19 dealt. John would be traversing the American West throughout the fall semester, so he offered to visit us virtually and speak about how his project has developed over the course of the pandemic. With the grace of the HC Media Team on our side, we set out to emulate A Peace of My Mind–HC style. Thus was born "Lessons on the Road to Peace."
On the evening of November 29th, Adam Giovanelli, lead videographer for Media Team, snapped headshots against a black backdrop as I beamed John in over Zoom.
There was a warmness to the air, an aura that harkened back to the familial camaraderie and healing energy of campfires up in Maine. John's presentation and our discussion that followed were introspective and grounding. We reckoned over the past year's challenges, reflected on our personal experiences, and channeled optimism as we looked toward the future. Our participants responded to two new questions: "What do you want to be remembered by? and "What does peace mean to you?"
While these new portraits aren't as numerous as those that John took—shared below, their voices cry out from similar depths. They are powerful, emotional, and human. To amplify human voices offers a human dimension to the complex issues that streak across headlines and stir up tension and heat. When I look at these beacons of our shared experiences, I feel a wave of hope. It extinguishes the tensions of our heatwaves and strikes a match of reassurance in our unsettled age. Like a moth with tie-dye wings, I chase this dialogue every day. It means the world to me.
xoxo
Gavin
---
RELATED:
Read about John Noltner's first visit to the Honors College and learn more about his project, A Peace of My Mind.
---
Photo Gallery | Lessons of the Road to Peace
Credits: Photography by Adam Giovanelli, Graphic Design by Lauren Krasnoff