By Donel Young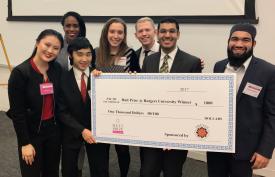 UPDATE: Sulis won the Regional Hult Prize Competition March 10, 2018 in Boston! Next up for the Sulis team is the Hult summer startup accelerator in London where the top 50 Hult Prize startups from around the world will spend eight weeks in a castle together, learning and refining their concepts. At the end of the summer, 6 teams will be chosen to compete for the $1 million global Hult Prize. Sulis is one of two Rutgers–New Brunswick teams among the 50 regional Hult Prize winners. The other is LivingWaters.
---
The Hult Prize has been called "The Nobel Prize for Students." Last year, Rutgers' own Roshni Rides won the $1 million global Hult Prize! This year's Hult Prize at Rutgers competition was won by Sulis—Honors College students Yuki Osumi ('20/SAS), Sarah Pomeranz ('20/RBS), and Anurag Modak ('20/SAS), with Ari Mendelow ('18/SOE–behind Anurag), all pictured beginning third from left.
Students were challenged this year to create social enterprise business models that "harness the power of energy to transform the lives of 10 million people by 2025." The Hult at Rutgers competition, which took place Friday, December 8, awarded $1,000 to the first-place team and advancement to regional finals.
The Sulis team said, "We are so grateful to our many advisers for helping Sulis in all its success. This journey has been incredible and we are ecstatic to represent Rutgers at the next level of the Hult Prize competition."
Sulis is a social innovation device that directly harnesses sunlight to generate sterilized water, which can be used to address the multifaceted needs of communities in the developing world without access to clean water, as well as of communities in the developed world affected by natural disasters. Sulis is in the process of refining and iterating their product design to ensure that it is energy-efficient, affordable, sustainable, and effective at eliminating pathogens.
The Hult Competition regional finals take place March, 2018.
---
Sulis was born at the Rutgers–New Brunswick Honors College Forum for first-year students and was advanced and developed in its Innovation Lab for sophomores, run by Professor Mukesh M. Patel, its founding Director of Innovation, who serves as principal Faculty Adviser to Sulis. The efforts of Professor Patel are collaboratively supported by Professor Shikha Mittra, who has assisted the team in developing its business plan; by Honors College Faculty Fellow Dr. Aaron Mazzeo, who has guided the team in developing the technology and provides space in his laboratory to conduct testing of the prototype; by Dr. Dunbar Birnie, who guided the team in developing the technology; and by Dr. Donald Schaffner, who provides space in his laboratory to conduct biological experiments with the technology. Sulis has also been generously supported by the Rutgers Business School, where Professor Patel and Professor Mittra are both faculty members. Sulis has received a seed grant and has been accepted into and received additional support from Rutgers Law School Entrepreneurship Clinic, where Professor Patel serves as its founding Director of Development; from the Rutgers Law School Intellectual Property Clinic; and the Rutgers I-Corps, where Sulis is receiving an NSF research grant and training support with Professor Patel.