Work and Life with Meaningful Impact
By Lauren Krasnoff ('22, MGSA/HC), HC Media Team Co-Lead Graphic Designer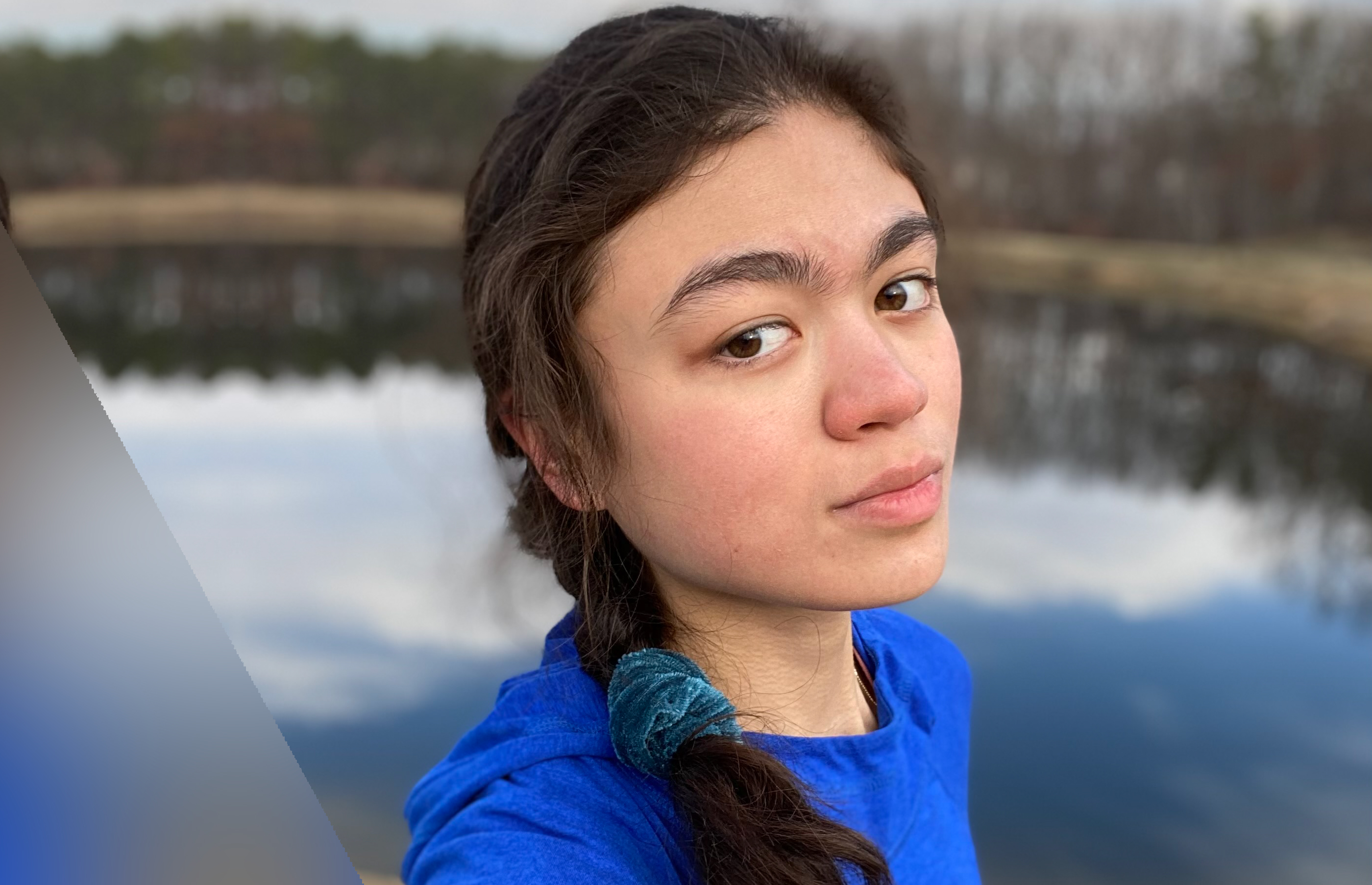 Having an impact has always been a passion for Michaela Lozada, an Honors College senior who is a visual arts student in Mason Gross School of the Arts as well as a computer science student in the School of Arts and Sciences. Throughout her time at Rutgers, she has not only found a path to pursue both areas of study, but she has integrated her two passions in a meaningful way.
While sitting in her house, which has doubled as her studio for the past year, she explains the intersection she has found between her majors.
"Both majors intrude upon the other every once in a while," Michaela explains. While studying computer science she is often presented with visual questions and in her art practice she is confronted with technical questions. "Each is an escape to the other."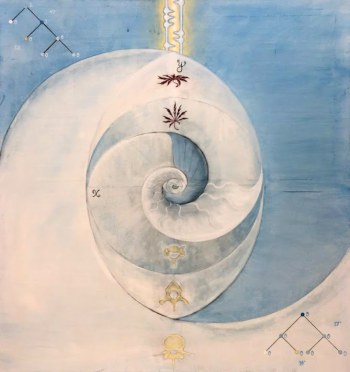 Her interest in a technical field also makes itself into her physical artwork both subconsciously and literally. She sometimes incorporates diagrams and concepts that are specific to computer science into her paintings. Her 2019 piece Scoliosis (An Equation) details her experience with scoliosis back surgery by incorporating natural elements with artificial concepts from computer science. One of these concepts is a tree rotation diagram, a foundational part of the study of computer science that holds various information and needs to be balanced and symmetrical. Michaela relates this idea to her back surgery, which balanced her asymmetrical spine.
Michaela has always channeled her personal experiences into her art, but entering her junior year she began to paint about more universal topics. She partially credits this shift to her relationship with the Honors College community.
"Being at the Honors College has made me more aware of the impact which we can and should make, which in turn has affected my art. It has impacted my entire mindset, making me more concerned about the welfare of communities both on a micro and macro scale."
She was also inspired the summer she spent interning at Sesame Workshop in New York. She worked on programs for refugee children and vulnerable families. As the themes in Michaela's work became larger than herself, so did the physical scale of the paintings. As her passion for global affairs grew, she was compelled to make bigger, louder work that would raise awareness. She now paints over 8 by 10 feet murals, and although the topics are universal, she sometimes maintains her autobiographical hand.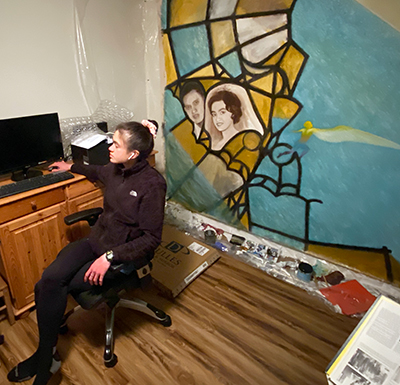 Currently Michaela is creating a virtual reality monument dedicated to those lost due to the COVID-19 pandemic. She partnered with WINLAB, a research center that works closely with Rutgers, which provided her with the necessary equipment. She wanted to capture the past year's global experience in an engaging way. She is designing the virtual memorial to be experienced from anywhere in the world and let the public contribute their thoughts, memories, and mementos dedicated to lost loved ones.
When asked what her favorite part about art is, Michaela describes "the limitlessness." Although so many areas of her life provide limitations,
art has taught her that "the only thing that we as artists are not allowed to do is be ignorant." Her insight to future artists and Honors College students is how important it is to keep an eye on global affairs. There are so many human rights violations that need to be "drummed up and talked about."
In the future Michaela hopes to continue merging her passion for art and computer programming, although she says whichever path she pursues she is less concerned with the medium. "The number one priority is the impact which my work makes on other people, whether it's through programming or painting or some merger of the two, I seem to feel most engaged when what I am doing is being channeled toward some sort of an impact."
---
You can find more of Michaela's work on her website.