By Margaret McHugh | Rutgers Today, April 8, 2022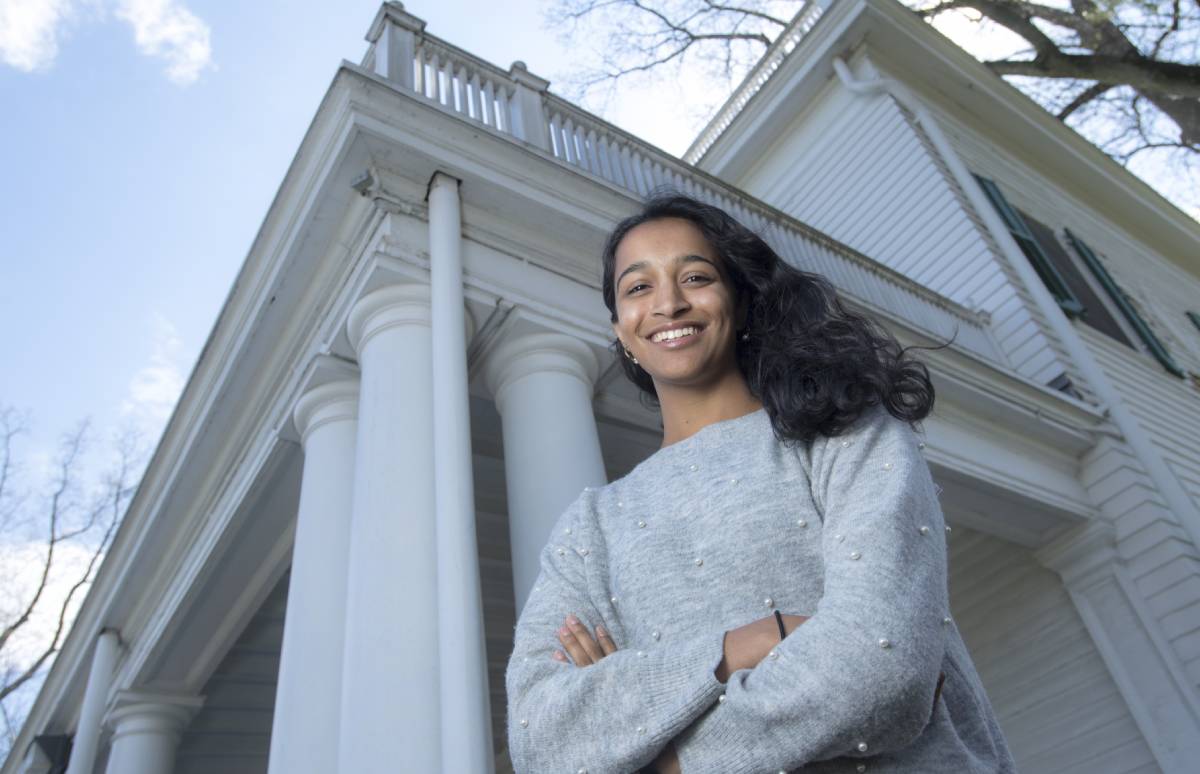 Though Neha Aluwalia was too young to vote in the 2016 presidential election, it altered her life's trajectory.
"I'd wanted to be a teacher since I was little. The 2016 election was a major turning point of realizing that I was interested in politics and I had a role to play in politics," said the Rutgers–New Brunswick Honors College senior. She will graduate from the School of Arts and Sciences with a double major in political science and German studies.
Ensuring fair representation in elections became a focus of Aluwalia's Rutgers experience. During her first semester, she spent more than 30 hours registering students on campus for the 2018 midterm election.
"I learned that voting isn't the only way to be civically engaged, but how important to me participating in each election is," she said.
As a sophomore, she tracked the number of women lawmakers across U.S. territories while interning at the Center for American Women and Politics, part of Rutgers' Eagleton Institute of Politics.
"This was not easy; it's very detailed work," said Chelsea Hill, the center's data service manager. Hill was so impressed with Aluwalia, she hired her as a research assistant her junior year. Aluwalia's major project was identifying women elected officials in each of New Jersey's 565 municipalities for a county-by-county annual report card produced by the center.
"She has a natural researcher's intuition for how to get the information," Hill said. Aluwalia searched municipal websites and news articles. In some smaller communities, "she had to do it the old-fashioned way, calling town halls," Hill said. "We could trust in her ability to find the information correctly."
Aluwalia is proud of the work. "Now it's out in the world, being used by advocacy groups to improve women's representation," she said.
After taking an Eagleton Institute course on redistricting last spring, Aluwalia became an intern on a project proposing changes to New Jersey's Congressional and legislative districts. Based on 2020 Census data, the goal was to redraw district lines to better reflect the state's diversity.
Aluwalia worked with the New Jersey Institute for Social Justice, a member organization of the nonpartisan Fair District New Jersey coalition. She studied communities' demographics and gathered input from residents.
The 21-year-old testified at a New Jersey Legislative Apportionment Commission hearing in November, explaining why it made sense to have her hometown of Plainsboro and neighboring West Windsor grouped together on the state legislative map. She explained that the towns shared a regional school district and recreation programs, and that both had high percentages of families who emigrated from Asian countries.
"The immigrant population is an essential part of the fabric of both Plainsboro and West Windsor," she said during the virtual public hearing.
While the state map adopted by the state in February kept Plainsboro and West Windsor in separate districts, the number of districts with a majority of residents who are people of color increased from 15 to 17.
Aluwalia joined the Rutgers University Mock Trial Association as a first-year student, serving two of her three years as team captain and organizing the annual invitational tournament. "I learned about law and policy, and speaking in front of people," she said. Aluwalia became a mentor to new team members.
As a lead ambassador for Rutgers Honors College, Aluwalia has helped new students acclimate and find their niche. She said being part of that living-learning community provided added support and a sense of belonging when she arrived at Rutgers. "It's very full-circle: I have loved my experience here, and want to share that," she said.
Aluwalia hadn't intended to major in German, but took classes to fulfill the Honors College requirement. She'd chosen to study German in high school only because her twin sister, Ruchi — also a Rutgers Honors College senior — took French. But she grew to love the language. In 2020, Aluwalia participated in a study abroad program in Berlin, cut short by the COVID-19 pandemic.
After graduation in May, Aluwalia will do a yearlong fellowship in Germany that combines both her majors. She'll spend two months studying the language and a semester taking political science classes, followed by a six-month internship in her field.
Aluwalia intends to pursue a career in law. "I am hoping to use my time in Germany to further explore what types of law I am interested in," she said. Employment and labor law, immigration law, and international law are all in the running as of now.
---
FULL SOURCE: Rutgers Senior Harnessed the Power of Political Science | By Margaret McHugh, Rutgers Today