By Honors College Staff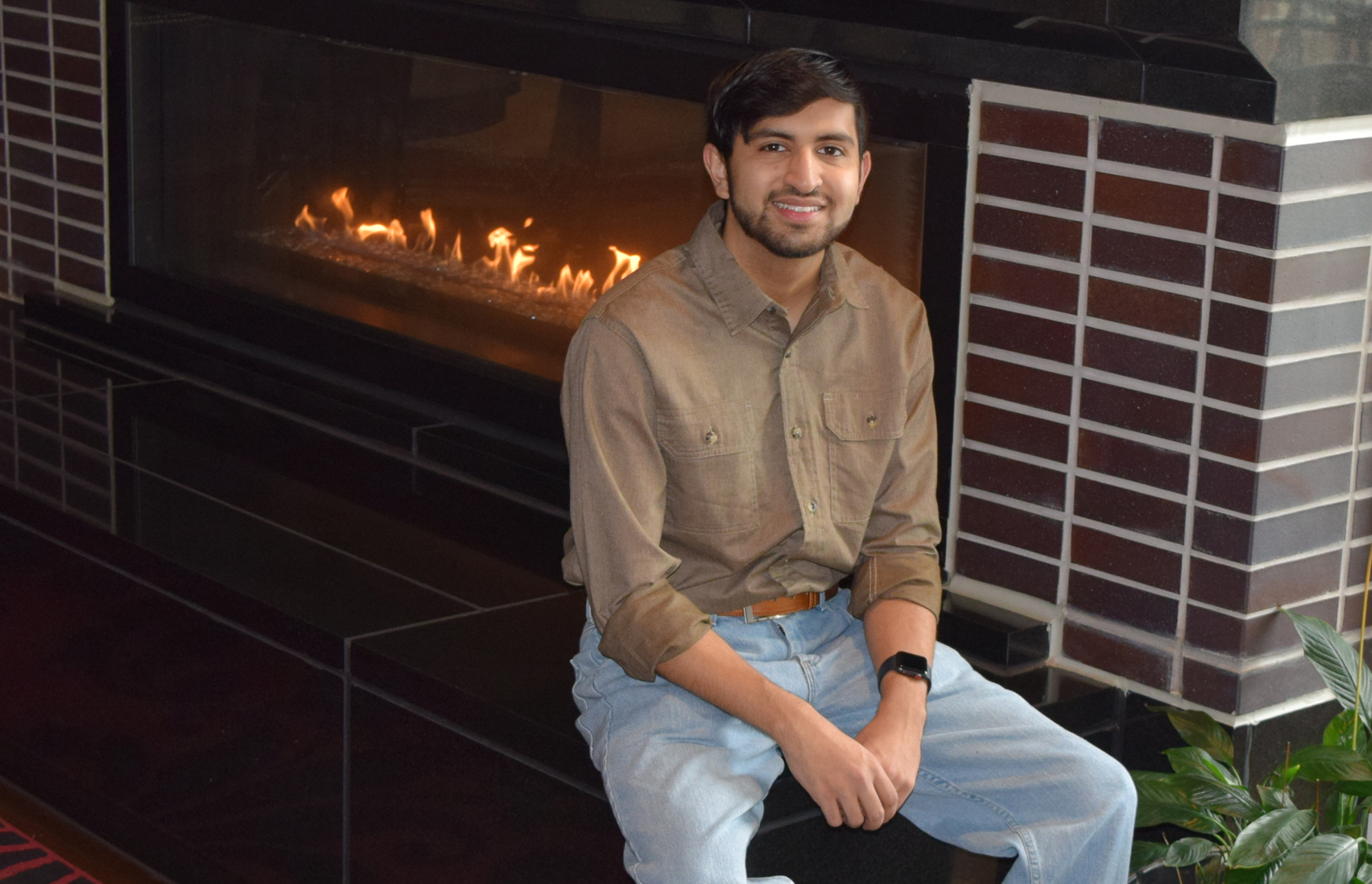 Luis Sanchez-Gonzalez ('26, SAS/HC), a Rutgers Honors College first-year student, already speaks seven languages. Fascinated with expression across languages and with how sound is made, he pursues his studies with the desire to speak as native speakers do in each of these—Italian, Japanese, German, French, English, and lately, Mandarin. A first-generation college student, he was raised in a Spanish-speaking household.
This fall, Luis was recognized as one of five winners in The Year of Languages Essay Prize for his short, yet extraordinary essay. In celebration of our rich and diverse cultures across campus, the Rutgers School of Arts and Sciences Division of Humanities asked students to write 150 words in response to the question, "Why Do I Learn Languages?"
For Luis, speaking languages provides for him an opportunity to connect with others in the world. Here is Luis' essay…in six languages:
Essay in English
My parents weren't taught English. My father speaks basic English, because he has worked here for years—he had to. My mother doesn't speak it at all—a housewife, she couldn't. Neither attended school past elementary. The rolling hills of Western Mexico did not lend themselves to more. Yet, here they are. Language in education is presented as a means to worldliness but its value varies from one person to the next. To some it is the ability to see the world, and to others, a pursuit of knowledge. We often overlook, however, that to others still, it is the opportunity for a better life, leaving home. The value of language to people like us is disregarded, but for it, I teach my mother English and have learned six languages (and counting), holding onto the ideal of a better life. To many, THIS is the value of learning and knowing world languages.
Essay in Spanish 
A mis padres no se les enseñó el inglés. Mi papá habla un poco de inglés, por haber trabajado aquí un añerio, teniendo que. Mi mamá no habla nada de inglés, siendo ama de casa, ni siquiera pudiendo si quisiera. Ninguno de los dos asistieron a la escuela después de la primaria. Los cerros de Jalisco nose prestaban a más. Aún así, aquí están. En la educación, los idiomas se presentan como el camino para estar "bien enterado", pero el valor que tienen para uno no coincide con el que tienen para otro. Para algunos, representan la habilidad de ver al mundo, y para otros, representan la búsqueda del conocimiento. Sin embargo, de seguido pasamos por alto el hecho de que aún para otros, los idiomas son la oportunidad de ganarse una vida mejor, dejando la tierra propia de uno. El valor de los idiomas para los que son como nosotros se pasa por alto, pero por el, le enseño a mi mamá el inglés, y he aprendido seis idiomas (y vienen más), manteniendo el ideal de una vida mejor. Para muchos, es este el valor que existe en el aprender y saber idiomas.
Essay in Italian
I miei genitori non avevano studiato l'inglese. Il mio padre parla un po' di inglese, avendo lavorato qui molti anni, dovendo impararlo. La mia madre non parla l'inglese, essendo una casalinga, non potendo nemmeno farlo se volesse. Nessuno dei due andava a scuola dopo la scuola elementare. Lecolline di Jalisco non si prestavano a più. Eppure, loro sono qui. Nell'educazione, le lingue sono presentate come un modo per essere ben informati, ma il valore che hanno per l'uno non coincide con il valore che hanno per l'altro. Per alcuni rappresentano la capacità di vedere il mondo e per altri rappresentano la ricerca della conoscenza. Tuttavia, spesso trascuriamo il fatto che per altri le lingue sono l'opportunità per guadagnarsi una vita migliore, lasciando la propria terra. Il valore delle lingue per quelli come noi è trascurato, ma per questo le insegno l'inglese alla mia madre e ho imparato sei lingue (e più nel futuro), sostenendo l'ideale di una vita migliore. Per molti, questo è il valore che esiste nell'imparare e nel sapere le lingue.
Essay in German
Meine Eltern hatten kein Englisch gelernt. Mein Vater kann ein bisschen Englisch sprechen, weil er so viele Jahre hier gearbeitet hat. Meine Mutter kann nichts auf Englisch sagen, denn wie eine Hausfrau hätte sie es nicht lernen können, selbst wenn sie gewollt hätte. Von den beiden ging keiner zur Schule nach der Grundschule. Die Hügel von Westmexiko eignen sich nicht für mehr. Trotz dieser Tatsache sind sie hier. In der Schulung werden Sprachen als eine Möglichkeit des "Erlernens" dargestellt, aber der Wert, den Sprachen haben, ist nicht für alle gleich. Es gibt Menschen, für die Sprachen die Chance darstellen, die Welt kennenzulernen, und es gibt Menschen, für die Sprachen das "Wissensstreben" darstellen. Wir vergessen aber oft, dass es viele Menschen gibt, für die Sprachen die Möglichkeit sind, sich ein besseres Leben zu verdienen, indem sie ihr eigenes Land verlassen. Der Wert von Sprachen für Menschen wie uns wird also sehr oft vergessen, aber für diesen Wert gebe ich meiner Mutter Englischunterricht und habe inzwischen sechs Sprachen gelernt (und weitere folgen), um das Ideal eines besseren Lebens hochzuhalten. Für viele ist dies der Wert, der darin besteht, Sprachen zu lernen und zu können.
Essay in French 
Mes parents n'avaient pas appris l'anglais. Mon père peut parler un peut d'anglais, pour avoir travaillé ici tant des années, de besoin. Ma mère ne sait dire rien en anglais, parce que comme une femme au foyer, même en voulant le faire, elle n'aurait pas pu apprendre. Des deux, aucun n'est allé à l'école après le primaire. Les collines de l'ouest du Mexique ne se prêtaient pas à plus. Malgré ce fait, ils se trouvent ici. Dans l'éducation, les langues sont présentées comme une manière d'être «savant», mais la valeur qu'il y a dans les langues n'est pas la même pour tous. Il y a des gens pour qui les langues représentent la chance de pouvoir connaître le monde, et il y a des gens pour qui ils représentent la quête de savoir. Cependant, on oublie très souvent le fait qu'il y a beaucoup des gens pour qui les langues sont l'opportunité de pouvoir se gagner une vie meilleure, en laissant la propre terre. Donc, la valeur des langues pour les gens comme nous est quelque chose de très souvent oubliée, mais pour cette valeur, j'enseigne l'anglais à ma mère, et j'ai appris six langues (avec plus sur le chemin) en maintenant l'idéal d'une vie meilleure. Pour beaucoup, ceci est la valeur qu'existe dans l'apprendre et savoir les langues.
Essay in Japanese
両親は英語を教わりませんでした。父は長い間この国で働いたので簡単な英語を話せても、話せるのは必要なことだけです。母は主婦なので父に比べて英語が全然話せません。しかも二人は小学校の後で進学しませんでした。それでも二人は今この国にいます。教育の背景で、語学は国際的さへの道として紹介されていますが真の価値はそれぞれの人の場合によります。全世界を見るチャンスだと思う人、知識の追求だと思う人などが多いです。しかしよく見逃されるのが、語学が門出しよりいい生活を得る機会だと思う人も多いことです。こういう見逃された個人的な価値のために私は母に英語を教えたり六つの外国語を学んだりするのです。多くの人からしたら、これこそが語学の価値と重要性です。
---
Read more about The Year of Languages and see all of the essays.