By Kaitlyn San Miguel ('19, SAS/HC)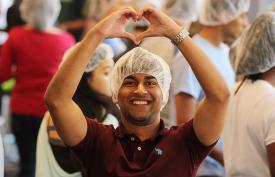 Thanks to your involvement and dedication, Honors College students have collectively logged over 11,000 hours of service this year. Students have served organizations locally and around the United States, from the Children's Specialized Hospital in New Brunswick to Project Lazarus in New Orleans, among others.
Don't forget to keep serving and logging your hours this summer. All students must complete and log 30 approved hours by the end of their third year to maintain their Honors College statuses. Students can log a maximum of 15 community service hours done outside of Rutgers or New Brunswick. An email with updated HC Serves hours will be sent by June 1, 2017 to all Honors College students.
If you've been enjoying your community service and want to take a leadership role in shaping the future of service opportunities for Honors College students, consider applying for an Executive Board position on the new Honors College Service Assembly.
The Service Assembly is dedicated to creating community service events and programs, connecting Honors College students with community service opportunities across campus and in New Brunswick, and promoting service-learning. There are four Executive Board positions available: Civic Engagement and Advocacy Chair, Campus Connections Chair, Philanthropy Chair, and Honors College Community Chair. Executive Board members will have the opportunity to form the Service Assembly, work closely with Honors College staff and students in creating meaningful community impacts, and be part of a larger network of Honors College student leaders. All students interested in an Executive Board position must apply by Wednesday, May 31 at 11:59pm.
Please email HC Serves with any questions or concerns.